Elham Jafari, MD
President & Medical Director
Meet Dr. Jafari, a caring and compassionate Cosmetic Surgeon and Liquid Facelift specialist, highly skilled and experienced with successful performance of thousands of cosmetic procedures, an Allergan Diamond Cosmetic Injector, and an artist and a sculptor, committed to ensuring the most elegant and natural-looking results for you!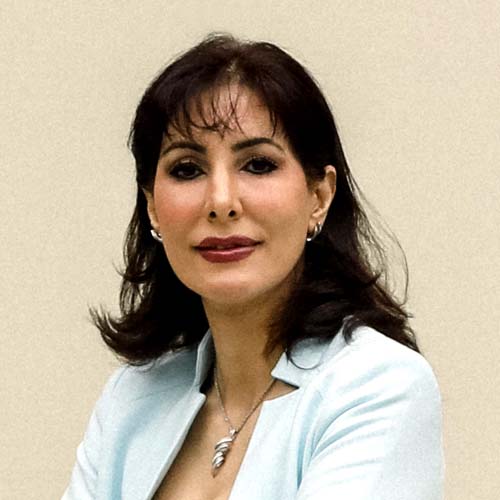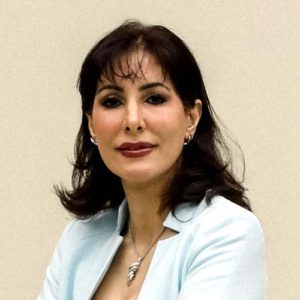 Dr. Elham Jafari, M.D. is among the most-experienced aesthetic and cosmetic specialists in Orange County with unrivaled expertise in the most advanced out-patient and non-surgical anti-aging, rejuvenating, and aesthetic procedures. An artist and an advocate of whole-face and body rejuvenation with emphasis on achieving natural-looking results, Dr. Jafari is the ultimate expert when it comes to cosmetic medicine and liquid facelift procedures!
But don't let all her qualifications and expertise and years of experience treating thousands of patients intimidate you! Dr. Jafari always ensures to allow a substantial part of her time to consult and treat patients who are new to the wonderful world of cosmetic medicine in addition to caring for her existing patients. She fully understands the concerns and hesitations that some patients have and keeps them on the fence from doing anything to their face or body.
Her consultations are performed in a professional yet relaxed and friendly atmosphere and she listens to you carefully. Dr. Jafari places great emphasis on highlighting the gradual changes that take place during years of aging and reviews them with the patients by going over pictures taken over the years. Then she discusses the treatment options available to address the issues and reverse the work of the aging process in the most effective way. This way, she ensures that her patients would get their own natural look, only years younger.
Dr. Jafari is at the forefront of cosmetic medicine and surgery and its newest advancements. She is a member of the American Academy of Cosmetic Surgery (AACS) and she holds several certificates for completion of advanced training courses on various cosmetic procedures while being an instructor for other physicians and training other doctors for various cosmetic and aesthetic treatments. She has been among the first few physicians in the area to offer treatments such as Sculptra, Bellafill, Kybella, Voluma, and PDO Thread Lift and she has pioneered several novel techniques to better perform her cosmetic injections and procedures.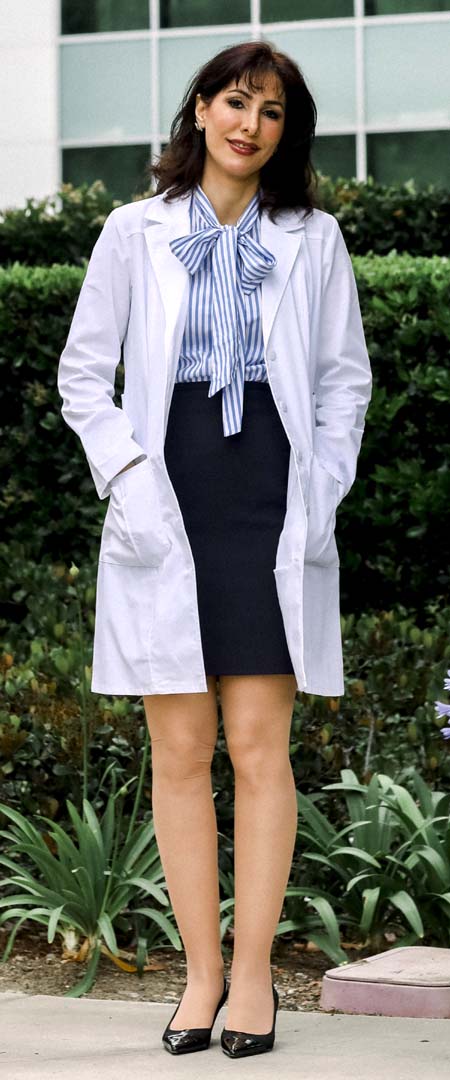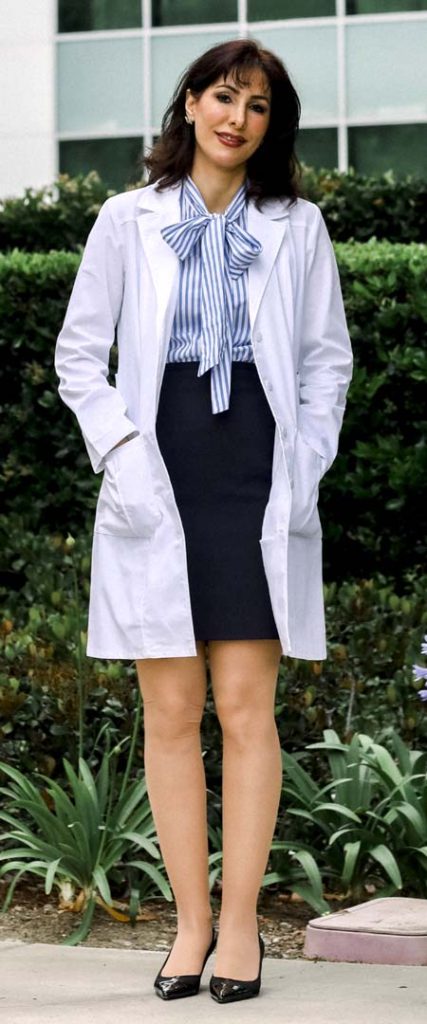 Dr. Jafari has always maintained a keen interest in advanced cosmetic medicine, as demonstrated by her extensive training in various aspects of aesthetic medicine. Dr. Jafari has successfully completed several advanced training courses in various cosmetic medical procedures including injectables such as Botox and fillers, Kybella, PRP, micro-cannula injection technique, various Laser applications, photofacial, micro-needling, body sculpting and chemical peels.
Dr. Jafari is a double-board-certified, fellowship-trained physician and cosmetic surgeon and an experienced Aesthetic and Laser Medicine specialist, as well as a California-licensed Physician and Surgeon. Dr. Jafari completed her medical internship at Mount Sinai School of Medicine and her residency at Albert Einstein College of Medicine in New York, and she continued to complete her fellowship at UCLA.
Dr. Jafari's academic training in Neurology and Neuromuscular Medicine – where she studied extensively the anatomy of nerves and muscles and mastered therapeutic use of Botox among other clinical expertise – provides her with invaluable knowledge and skill in providing the best treatment for her patients, particularly in the face area which is packed with nerves, fine muscles, vessels and other sensitive anatomical features. Relying on her advanced and rarely-rivaled knowledge of the anatomy of the face, Dr. Jafari can skillfully perform even the most challenging cosmetic injections in the face and provide her patients with instant liquid facelift procedures with incredible results.
Dr. Jafari's additional sub-specialty training in Neuromuscular medicine has given her a distinguished level of knowledge and expertise for cosmetic injections especially in the face area, where she can make injections using fine needles and novel techniques such as micro-cannula with utmost precision to achieve the desired goals with minimal risk of complications. Dr. Jafari is one of the leading physicians in Orange County who routinely performs injections using flexible microcannula. She has received accolades and recognition from various entities, including being recognized as a Platinum-level physician by Allergan, and recognition as a Voluma Specialist.
Dr. Jafari is a caring physician who prides herself on constantly staying updated with the state-of-art techniques, most recent medical findings, and evidence-based guidelines, and providing the best care for her patients. Her goal is to provide the right care, to the right patient, in the right manner, to ensure ultimate patient satisfaction.
Dr. Jafari lives in Orange County with her husband and twin daughters. When not attending her patients, she spends time with her family and she enjoys playing the piano, biking, swimming, and skiing.
Selected Scientific Publications:
Noskin O, Jafarimojarrad E, Libman RB, Nelson JL. Diffuse cerebral vasoconstriction (Call-Fleming syndrome) and stroke associated with antidepressants. Neurology. 2006;67:159-60.
Jafarimojarrad E, Nelson JL. A potentially SSRI-induced case of Call-Fleming syndrome. J Neuropsychiatry Clin Neurosci, 2006 May 18:256-258.
Atri M, Jafarimojarrad E, Javidroozi M, Mehdipour P. Lack of association between early onset of breast cancer and numbers of affected relatives in an Iranian population. Fam Cancer. 2003;2:117-8.
Mehdipour P, Atri M, Jafarimojarrad E, Hosseini-Asl SS, Javidroozi M. Laddering through pedigrees: family history of malignancies in primary breast cancer patients. Asian Pac J Cancer Prev. 2003;4:185-92.
Mehdipour P, Atri M, Jafarimojarrad E, Hosseini-asl SS, Javidroozi M. Significance of family history in breast cancer. International Journal of Cancer (Suppl 13 for 18th UICC Int. Cancer Congress), 2002; Suppl. 13:186.
Jafarimojarrad E, Jahanzad I, Tirgari F, Djamali M, Javidroozi M. Immunohistochemistry versus histopathology in breast cancer. International Journal of Cancer (Suppl 13 for 18th UICC Int. Cancer Congress), 2002; Suppl. 13:210.
Jafarimojarrad E, Javidroozi M, Ghavamzadeh A, Alimoghadam K, Jahanzad I, Abdirad A, Tirgari F. Breast Cancer in Iran: An immunohistochemical approach. Proceedings of American Society of Clinical Oncology, 2002;21:292b.
Jafarimojarrad E, Jahanzad I, Tirgari F, Abdirad A, Javidroozi M. Breast cancer in Iran: A histopathological approach. European Journal of Cancer (Suppl. 3 for 3rd European Breast Cancer Conference), 2002;38(Supple. 3): S114(280).
Atri M, Mehdipour P, Javidroozi M, Hosseini-Asl S, Jafarimojarrad E. Linking Histopathology and Family History in Breast Cancer. Asian Pac J Cancer Prev. 2002;3:33-39.
Awards & Honors:
Fellowship from J. Kiffin Penry Epilepsy program. Wake Forest University School of Medicine and present a clinical case (11/2006)
Fellowship from the American Neurological Association's Resident's Academic Symposium and 131st ANA Annual Meeting, Chicago, IL (10/2006)
Fellowship from the 18th UICC Int. Cancer Congress, Oslo, 2002
Fellowship from the 3rd Euro. Breast Cancer Conference, Barcelona, 2002
Invited Speeches:
13th Annual Meeting of IAMA: Specialists and Advances in Medical Fields, New Jersey (5/2006)
Annual Pathology Assembly (Clinical & anatomical), Tehran (10/2002)
3rd Global Conference for Cancer Organizations, Brighton, UK (6/2001)
Abstracts Presented in International Meetings:
Jafarimojarrad E, Demopoulos A. Clinical, radiologic and pathologic characteristics of pseudoprogression in malignant gliomas. 2007 Annual Meeting of the Society for Neuro-Oncology, 15-18 November 2007, Gaylord, TX.
Atri M, Javidroozi M, Jafarimojarrad E, Mehdipour P. Breast Cancer and a different look at the prognostic factors. 2nd Int. congress on advances in Hematology, Oncology, and BMT, Tehran, Iran, Sep 2002.
Mehdipour P, Atri M, Javidroozi M, Jafarimojarrad E. Breast Cancer in Iran: A closer look at the reports. Int. Association of Cancer Registries 23rd Annual Meeting, Havana, Cuba, Oct 2001.
Jafarimojarrad E (Oral presentation), Atri M, Mehdipour P, Javidroozi M. Histopathologic and Family History Characteristics in Breast Cancer. 3rd Global Conference for Cancer Organizations. Brighton, UK, Jun 2001.
Books:
Meeting of the WHO Scientific Working Group on Criteria for Setting Health Research Priorities (2002, ISBN 964-06-1546-3)
How to boost the impact of country mechanisms to support ENHR (2003, ISBN 964-7657-57-9)
National Health Research System – Perspectives of the international health research organizations (2004, ISBN 964-95443-1-3)