At Amoderm, we offer a comprehensive array of peels for restoring youthful and radiant skin, including the Obagi Blue Peel. All chemical peels share the same fundamental mode of action which is based on using the controlled action of acids to exfoliate and remove layers of dead skin and the imperfections such as lines, wrinkles, discolorations and pigmentations with them, enhancing and exposing the underlying youthful and healthy skin.
What sets various chemical peels apart is the specific active acid used as well as the other included agents which could affect the way the peel works and provide additional exfoliation or more comfort. Also who applies the peel – physician or esthetician – plays an important role since the licensed physician can typically use deeper peels for more effective results.
Obagi offers two types of in-office peels:
Obagi Blue Peel
Obagi Blue Peel Radiance
Obagi Blue Peel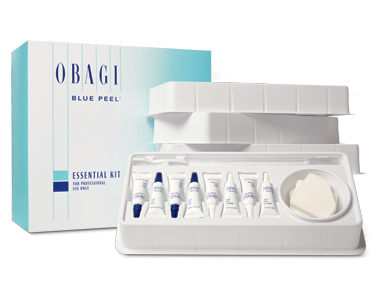 Obagi Blue Peel is based on the clinically-proven TCA (trichloroacetic acid) chemical peel system that is applied by physician for the best and safest results. The peel can penetrate as far as the dermis layer of the skin. As the name suggests, Blue Peel incorporates the Obagi proprietary Blue Peel base which works to control the level of penetration and action of the TCA as well as providing your physician with a visual gauge to monitor the uniform and even application of the peel and its penetration with more emphasis as needed on problem areas. The peel itself can be customized by your physician to have varying strength ranging from mild to moderate and stronger based on the skin conditions and desired results. Your doctor will also closely monitor and determine the optimal depth and duration of the peel and the recovery period.
Obagi Blue Peel can be an excellent choice for various common skin problems such as:
Fine lines
Skin discoloration and hyperpigmentation
Skin darkening (bleaching effect)
Melasma
Enlarged pores
Photoaging and sun damage
Saggy skin (skin tightening)
– What to Expect from Blue Peel
The procedure is typically completed in less than an hour in a single visit. A bluish tint may be noticeable after the procedure which should wash off in 12-24 hours. Blue Peel can be used on the face and neck. Upon application of the Blue Peel, patients may experience a mild burning sensation which typically lasts for a few minutes. The downtime is minimal. Patients may experience some redness and swelling after the procedure. The skin peeling typically starts on the second or third day after the Blue Peel and resolve within 5-7 days and healing is usually completed in 7-10 days. The skin rejuvenation process typically continues in the following weeks. Like most other skin rejuvenation treatments, sun protection is the tenant of post-peel care. Avoid sun exposure as much as possible and make sure to wear (and repeat as needed) sunblock with SPF of 30 or higher and broad-spectrum UV protection. Additionally, for best results and to avoid scarring, it is important not to pick at the peeling skin and continue treating the skin gently while the peeling is underway. Using a mild moisturizer devoid of irritants is recommended.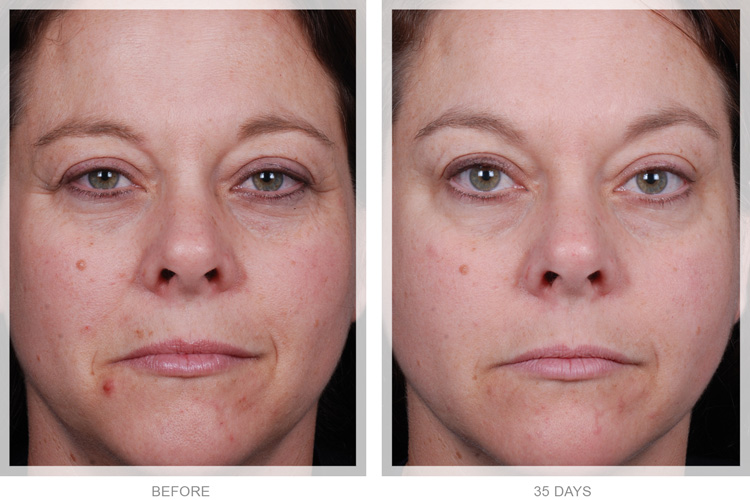 Obagi Blue Peel provides effective exfoliation and rejuvenates the skin from within to improve the lines and wrinkles, large pores and uneven or increased pigmentations and it helps tighten the skin. The result is typically a tighter and smoother skin, brighter and more radiant complexion and a more youthful and fresh look. Optional skin treatments may be recommended prior to or after the Blue Peel to enhance and maximize the results.
Obagi Blue Peel Radiance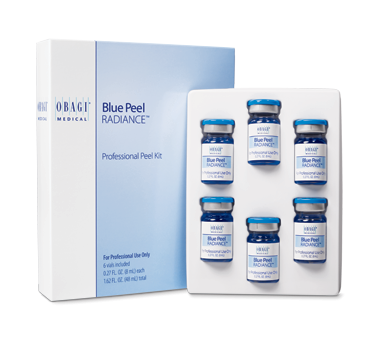 Blue Peel Radiance is based on salicylic acid chemical peel system and it is a great option for exfoliating and removing damaged superficial layers of dead skin to achieve fresh, renewed and healthy-looking skin with a natural glow and improved complexion.
Blue Peel Radiance can be used for all skin types and it provides a safe and effective treatment for many common skin conditions including:
Wrinkles and fine lines
Skin discoloration and pigmentary changes (photodamage, melasma, etc)
Skin darkening
Enlarged pores
Photoaging and sun damage
Saggy skin

– What to Expect from Blue Peel
Blue Peel Radiance is designed to be applied by your physician in the clinic. Blue Peel Radiance is specifically formulated to be gentle on your skin but you may still have mild redness and some peeling in the days following the procedure.
Avoid direct sun exposure following the peel. Use of adequate sun protection (with broad-spectrum SPF of 30 or more) is very important after the peel for at least a week, and you should continue using the sun blocker after that to maintain the health and youthfulness of your skin. Your skin may become mildly dry or red and you may experience flaky skin for several days after the peel. It is very important to avoid picking at the peeling skin and allow it to peel on its own pace. Use a mild moisturizer to aid in the healing process and avoid the use of products with alpha/beta hydroxy acid, retinol or retinoids for a few days after the peel. You can usually resume your regular skincare routine in about a week after the peel, but you should check with and follow your doctor's advice.
Blue Peel Radiance provides controlled exfoliation of a superficial layer of skin with little or no downtime. The results are often evident instantly after the procedure and include overall improvement of tone and texture of the skin. The skin often looks much healthier, tighter, smoother and brighter with as few as just one treatment session, and for best results, a series of 4-6 peels, each spaced 2-4 weeks apart is recommended.
We will gladly discuss Obagi Blue Peel and other treatment options for radiant, youthful and healthy skin during the complimentary consultation. Call Amoderm today at 949-266-7346 to schedule your consultation!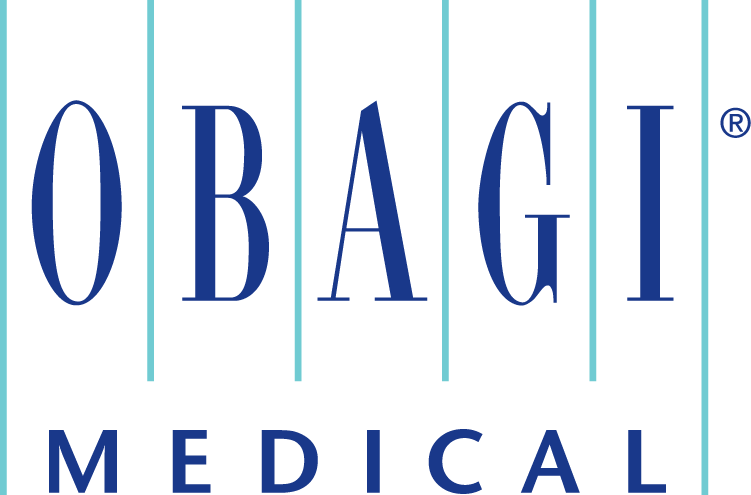 Real Results at Amoderm Cosmetic and Wellness Medical Center with Chemical Peel Treatment – Obagi Blue Peel