Welcome to Amoderm, the leading provider of dermal fillers in Orange County!
At Amoderm, we are proud to offer an extensive array of dermal fillers for various cosmetic and anti-aging treatments. All our filler injections are performed exclusively by an experienced licensed physician using FDA-approved medications, and microcannula for best results whenever possible. Please visit our individual pages for a detailed description of various fillers we offer, or read on to learn more about the magic of dermal fillers!
Amoderm currently offers these fillers:
How Can Dermal Fillers Reverse Years Of Aging In Minutes?
Aging is a complex process that involves interaction of several genetic and environmental factors. A part of it is dictated by our genes over which we have little control (yet), but a big part of aging process is the result of what our body faces in day to day life over years – diet and life style choices, stress, and sun exposure.
No matter what the causes are, the aging involves certain changes in our skin hallmarked by damage and loss of connective tissue of the skin. Collagen and elastin – molecular strands that provide tensile and elastic support for skin – are lost or deranged, and hyaluronic acid – a water-retaining gel that provides volume and plumpness to the skin – is diminished. Other important components such as healthy blood vessels and cells such as fibroblasts (which are eventually responsible for making new collagen, elastin and hyaluronic acid) are also lost or become gradually inefficient as we age.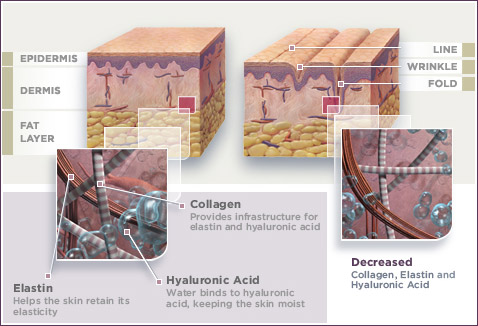 We can use an example to better illustrate the contribution of collagen and hyaluronic acid to healthy, rejuvenated skin. Think of tires of your car. Collagen and other components of extracellular matrix are similar to the wall of the tire, and hyaluronic acid acts like the air inside the tire. For the tire to function properly, the wall (collagen) should be intact and it should also be properly inflated (hyaluronic acid). Failure or loss of either one is enough to cause a deflated tire in our example, or an aged face, with wrinkles, deep lines, prominent bony features, dropped cheeks and more.
Aging does not happen overnight, and there are many things we can do to slow or reverse the process. Dermal fillers are among the most effective treatments that when used skillfully by your doctor, can restore and replenish collagen and hyaluronic acid. The results can often be seen instantaneously and right after injection for some fillers, while some other fillers work their magic more gradually.
Here is a rundown of common fillers that can be used for reversing the effects of the aging process:
Hyaluronic acid-based fillers: The same hyaluronic acid gel that is naturally present in our skin and gives it its volume has been provided by pharmaceutical companies in form of various FDA-approved dermal fillers such as Juvederm, Restylane, Perlane (Restylane Lyft), Juvederm Voluma and Belotero Balance. All these fillers are based on hyaluronic acid, but hyaluronic acid in each filler has been formulated and/or reconstituted specifically to have certain characteristics. For example, Juvederm Ultra Plus is thicker than Juvederm Ultra, making it more suitable to treat deeper lines. The hyaluronic acid molecules in Juvederm Voluma have been modified to make them more resilient and resistant to natural enzymes occurring in the body that work to degrade it. Hence, Juvederm Voluma can be used to achieve long-lasting results, restoring lost volume lasting for years. As another example, Belotero Balance is relatively thinner and more suitable to use when a general and uniform volume restoration is desired for areas such as the neck or face.
Tips for A Successful Filler Treatment
Dermal fillers are great products that when used by your skillful doctor can do miracles in reverse years of aging in just minutes! Injection of fillers is a cornerstone of successful anti-aging treatments and they are generally very safe and effective. Here are a few tips for successful filler treatments:
- Like most other cosmetic medical treatments, the skill and experience of your doctor is the key. Doctors often do not receive any formal training on filler injection as part of their medical training and it is up to them to seek advanced courses and training in this field. Less experienced doctors often focus directly on "problem areas" such as deep nasolabial lines, trying to correct them with direct injection of filler underneath. More experienced doctors know that the better approach to this problem can be injected toward the cheeks to create a pull, flatting the lines.
- You should aim for natural-looking results. You might have seen people whose faces "scream" that they have performed some cosmetic procedures, and more often than not, the results may not look natural. While some aging problems may require more intensive treatments, maintaining the natural beauty of the face is important. The focus should remain on reversing the effects of aging to achieve natural-looking rejuvenation. Ideally, you want your look to be you, only years younger!
- Trust your doctor to achieve whole-face rejuvenation. Aging affects several parts of our face, and its effective treatment also often requires combined use of several modalities at various areas. Some patients occasionally make the mistake of just focusing on one or a few problem areas while ignoring other places. Rather than getting too obsessed with just one area, have the discussion with your doctor on treatments to address the aging of your face holistically. Your doctor can use various fillers in combination with Botox or Dysport injections made skillfully at various areas of the face for best looking results. Try to follow your doctor's recommendations on type and dose of fillers and Botox.
- Don't forget your hands, neck, and décolletage (among other parts of body). You don't want your hands or neck look 10 or 20 years older than your face! Discuss rejuvenating treatment option for other parts of your body for most comprehensive rejuvenation approach.
- Use safer treatment approaches. Ask your doctor if he/she can use a cannula for injecting hyaluronic acid fillers. Microcannula is a flexible needle with a blunt tip which can be used to inject large volumes of filler at various parts of the face through just one point of entry. The result is less pain, discomfort, and bruising, and less risk of injury to sensitive tissues.
- Follow post-care instructions carefully. Some fillers have special post-care requirements, for example, Sculptra must be injected in a series of treatment sessions and site of injection must be massaged after each injection for best results. Ask your doctor for what to do to maximize the effectiveness of the treatment.
- Trust only qualified licensed clinicians for filler injections (and any other medical cosmetic treatments). You want your injector to know very well about various fillers, how to inject them, the anatomy of face and body, etc. More importantly, you want your injector to know about the risks and potential complications of filler injection. Complications may occur even with the most experienced injector, but you want your injector to know about the complications, their warning signs, how to treat them, and how to avoid or minimize them.
Appropriate use of dermal fillers can take away years of aging in a few minutes. For many patients, it's not much short of a miracle. When used skillfully, fillers are among the safest and most effective treatment options to drastically rejuvenate the face and other parts of the body. If you would like to know more, call us today at 949-266-7346 to schedule your complimentary consultation and explore your options!
---
Amoderm is pleased to offer dermal fillers including Juvederm, Restylane, Restylane Lyft (Perlane), Belotero, Radiesse, Sculptra and Voluma for various face, neck and hand rejuvenation procedures using Microcannula technique to patients throughout Orange County as well as patients from Los Angeles, San Diego, Riverside and San Bernardino Counties. The patients we serve come from cities near and far, including Aliso Viejo, Anaheim, Costa Mesa, Cypress, Dana Point, Foothill Ranch, Fountain Valley, Fullerton, Garden Grove, Huntington Beach, Irvine, Ladera Ranch, Laguna Beach, Laguna Hills, Laguna Niguel, Laguna Woods, Lake Forest, Mission Viejo, Newport Beach, Newport Coast, Orange, Placentia, Rancho Santa Margarita, San Clemente, San Juan Capistrano, Santa Ana, Tustin, Westminster, Yorba Linda and more. 
Real Results at Amoderm Cosmetic and Wellness Medical Center with Dermal Filler Treatments