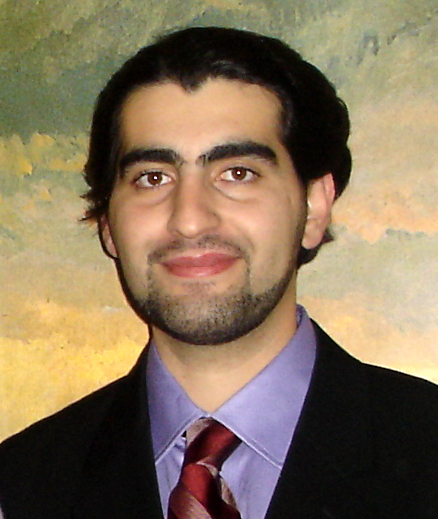 Mazyar Javidroozi, PhD
Co-founder & Chief Scientific Advisor
Dr. Mazyar Javid is a clinical scientist, lifestyle educator, and entrepreneur. He is the co-founder and the scientific advisor at Amoderm Medical Corporation. He has years of experience in designing and conducting cutting-edge clinical trials and laboratory research on various medical conditions. After completing medical training, Dr. Javid's avid interest in battling serious diseases of our age through scientific research led him to pursue a full-time science career as opposed to becoming a clinician.
Dr. Mazyar Javid has deep knowledge and understanding of human biology and physiology and the molecular basis of human diseases, including extracellular matrix, cell cycle and differentiation, and related phenomena such as cancer and aging and the role of environmental factors and lifestyle. Drawing upon his expertise, Dr. Javid created the Amoderm Advanced Skin Care Line to provide high-quality, safe, and clinically-proven effective products for healthier and rejuvenated skin. Dr. Javid continues his ground-breaking research to find more effective skincare solutions based on the latest scientific findings and to bring them to the public, under Amoderm™ advanced skincare product line.
Dr. Mazyar Javid has also been the founder and director of the Wellness program at Amoderm, where he actively engages and assists patients in developing and implementing therapeutic lifestyle changes including (but not limited to) individualized diet planning and lifestyle modification to improve health and well-being and prevent, postpone, or treat and reverse the course of chronic illnesses. With chronic diseases becoming the leading causes of death and disability and impaired quality of life, and the proven role of lifestyle in prevention and treatment of these deadly conditions, Dr. Javid is passionately devoted to promoting healthy lifestyles and he is actively involved in designing and developing cutting-edge, user-friendly, and evidence-based wellness programs.
Dr. Mazyar Javid completed his Ph.D. in Molecular and Cellular Biology with a specialization in Molecular Pathology and Immunology at Stony Brook University in New York where he conducted research on cancer and novel cancer treatments. Dr. Javid is the Director of Clinical Research at Englewood Hospital and Medical Center in New Jersey where he has designed, conducted and analyzed several clinical studies on new drugs as part of the formal FDA approval process in addition to research on innovative ways of reducing the reliance on donor blood transfusions. In addition, he is a consultant for pharmaceutical companies where he advises and steers their scientific activities to design and study new medications and medical devices to promote the health and well-being of patients throughout the world. He has an extensive list of scientific publications in prestigious medical journals and he also serves as a reviewer for a number of leading medical journals.
List of Selected Peer-reviewed Scientific Publications:
Konig G, Holmes AA, Garcia R, Mendoza JM, Javidroozi M, Satish S, Waters JH. In Vitro Evaluation of a Novel System for Monitoring Surgical Hemoglobin Loss. Anesth Analg. 2014 May 6.
Shander A, Gross I, Hill S, Javidroozi M, Sledge S. A new perspective on best transfusion practices. Blood Transfus. 2013;11:193-202.
Shander A, Javidroozi M. The approach to patients with bleeding disorders who do not accept blood-derived products. Semin Thromb Hemost. 2013;39:182-90.
Shander A, Puzio T, Javidroozi M. Variability in transfusion practice and effectiveness of strategies to improve it. J Cardiothorac Vasc Anesth. 2012;26:541-4.
Shander A, Berth U, Betta J, Javidroozi M. Iron overload and toxicity: implications for anesthesiologists. J Clin Anesth. 2012;24:419-25.
Shander A, Javidroozi M. Resurrecting the iron age*. Crit Care Med. 2012;40:2252-3.
Shander A, Javidroozi M. Strategies to reduce the use of blood products: a US perspective. Curr Opin Anaesthesiol. 2012;25:50-8.
Javidroozi M, Zucker S, Chen WT. Plasma seprase and DPP4 levels as markers of disease and prognosis in cancer. Dis Markers. 2012;32:309-20.
Shander A, Javidroozi M, Perelman S, Puzio T, Lobel G. From bloodless surgery to patient blood management. Mt Sinai J Med. 2012;79:56-65.
Shander A, Javidroozi M, Ozawa S, Hare GM. What is really dangerous: anemia or transfusion? Br J Anaesth. 2011;107 Suppl 1:i41-59.
Shander A, Javidroozi M, Ashton ME. Drug-induced anemia and other red cell disorders: a guide in the age of polypharmacy. Curr Clin Pharmacol. 2011;6:295-303.
Shander A, Fink A, Javidroozi M, Erhard J, Farmer SL, Corwin H, Goodnough LT, Hofmann A, Isbister J, Ozawa S, Spahn DR; International Consensus Conference on Transfusion Outcomes Group. Appropriateness of allogeneic red blood cell transfusion: the international consensus conference on transfusion outcomes. Transfus Med Rev. 2011;25:232-246.
Shander A, Javidroozi M. A reductionistic approach to aged blood. Anesthesiology. 2010;113:1-3.
Mackenzie CF, Moon-Massat PF, Shander A, Javidroozi M, Greenburg AG. When blood is not an option: factors affecting survival after the use of a hemoglobin-based oxygen carrier in 54 patients with life-threatening anemia. Anesth Analg. 2010;110:685-93.
Shander A, Javidroozi M. Invited commentary. Ann Thorac Surg. 2010;89:576-7.
Shander A, Moskowitz DM, Javidroozi M. Blood conservation in practice: an overview. Br J Hosp Med (Lond). 2009;70:16-21.
Javidroozi M, Moskowitz DM, Shander A. Adjusting surgical bleeding for dilutional effect of Hextend. Transfusion. 2008;48:2480-1.
Shander A, Javidroozi M. The unresolved safety concerns of bovine thrombin. Patient Saf Surg. 2008;2:23.
Shander A, Javidroozi M, Thompson G. Hemoglobin-based blood substitutes and risk of myocardial infarction and death. JAMA. 2008;300:1296-7.
Moskowitz DM, Shander A, Javidroozi M, Klein JJ, Perelman SI, Nemeth J, Ergin MA. Postoperative blood loss and transfusion associated with use of Hextend in cardiac surgery patients at a blood conservation center. Transfusion. 2008;48:768-75.
Shander A, Javidroozi M. Invited commentary. Ann Thorac Surg. 2008;85:844.
Shander A, Javidroozi M. Another headache for anemia. Crit Care Med. 2007;35:2454-6.
Shander A, Javidroozi M, Goodnough LT. Anemia screening in elective surgery: Definition, significance and patients' interests. Anesth Analg. 2006;103:778-9.
Mehdipour P, Atri M, Jafarimojarrad E, Hosseini-Asl SS, Javidroozi M. Laddering through pedigrees: family history of malignancies in primary breast cancer patients. Asian Pac J Cancer Prev. 2003;4:185-92.
Atri M, Jafarimojarrad E, Javidroozi M, Mehdipour P. Lack of association between early onset of breast cancer and numbers of affected relatives in an Iranian population. Fam Cancer. 2003;2:117-8.
Atri M, Mehdipour P, Javidroozi M, Hosseini-Asl S, Jafarimojarrad E. Linking Histopathology and Family History in Breast Cancer. Asian Pac J Cancer Prev. 2002;3:33-39.