From a Toxin to a Medicine – The Amazing Story of Botox
Botox, Dysport, Xeomin and recently Jeuveau all belong to the same family of medications derived from botulinum toxin, a naturally-occurring protein produced by specific bacteria. When injected carefully into muscles, they are capable of blocking the transmission of signals from the nerve terminals into the muscles, preventing muscle contraction in a controlled and reversible way.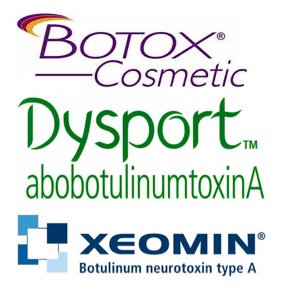 Thanks to their unique and specific mode of action, these medications have found their way in treatment of a growing list of medical conditions. Here are a few examples: migraine headaches, muscle spasms in neck and other areas (including spasm in patients with Multiple Sclerosis), cervical dystonia, excessive sweating (Hyperhidrosis), painful TMJ (temporo-mandibular joint), anal fissures, overactive bladder (urinary incontinence), Bell's palsy, tennis elbow, crossed (lazy) eyes (squint or strabismus), essential tremor, eye twitching, blepharospasm and more. What all these very different conditions share is overactive or abnormally-strong contraction of muscles, which results in pain and/or interferes with normal function of the organ. By relaxing the involved muscles, Botox, Dysport, Xeomin and Jeuvea alleviate the symptoms.
Cosmetic Uses of Botox, Dysport, Xeomin & Jeuveau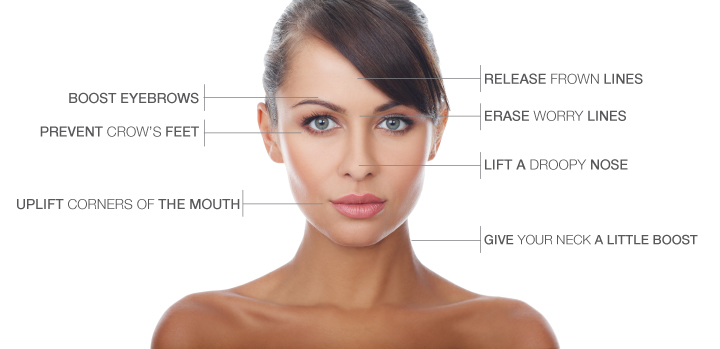 Botox, Dysport, Xeomin, and Jeuveau are also widely used for medical cosmetic treatments. Upon injection into facial muscles, these medications can reduce or eliminate the appearance of lines and wrinkles through relaxing and weakening the underlying muscles that are responsible for contracting the skin and causing those folds. Botox, Dysport, Xeomin, and Jeuveau are most effective against "dynamic" lines and wrinkles – those that diminish when the muscle relaxes. But if left untreated, these "dynamic" wrinkles can turn into "static" lines and become permanent. This issue underscores the importance of timely preventive treatment with Botox, Dysport, Xeomin, and Jeuveau before the dynamic lines become static and permanent. When done skillfully, the natural facial expressions are preserved and only the excessive contractions that are responsible for wrinkles and lines are controlled.
The cosmetic uses of Botox and other medications in this family are not limited to eliminating lines and wrinkles. Another use of these medications is for jawline reduction and facial slimming. When injected carefully into prominent jaw muscles, they can relax the hypertrophic jaw muscles and confer a slimmer and more shapely jaw and lower face. Similarly, Botox and other similar medications can be used to reduce the bulk of calf muscles, for slimmer lower legs (calf slimming).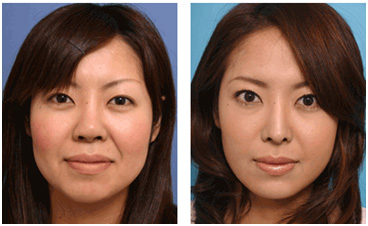 Jaw Slimming Using Botox Injections
Injection of Botox and other similar medications, Dysport, Xeomin and Jeuveau is an important and often irreplaceable part of a comprehensive rejuvenation treatment, alongside with injection of fillers such as Juvederm, Perlane, Restylane, Radiesse, Belotero, Sculptra and Voluma. Use combined, these medications can reverse years of aging with minimal discomfort, a procedure known as a liquid facelift.
Which One Is Better – Botox, Dysport, Xeomin or Jeuveau?
For years, Botox was the only available medication in the family of neurotoxins which resulted in its wider brand recognition. The family has recently become larger with the addition of new members, Dysport, Xeomin, and Jeuveau. All these medications are derived from botulinum toxin, a naturally-occurring protein produced by specific bacteria. When injected carefully into muscles, they are capable of blocking the transmission of signals from the nerve terminals into the muscles, preventing muscle contraction in a controlled and reversible way. They are used in a number of cosmetic applications, including the reduction of facial wrinkles and lines such as crow's feet, frown lines, and forehead lines, as well as reducing the tone and bulk of muscles for aesthetic reasons (e.g. jaw slimming and calf slimming). The wrinkle-reducing effect typically lasts for 3-6 months for all 3 types of medication. As it is often discussed that Botox, Dysport, Xeomin, and Jeuveau are all supposed to do the same thing, these questions come to mind of many:
– What is the difference between Botox, Dysport, Xeomin and Jeuveau?
– Which one of these medications work better for me?
In the US, Botox was approved by the FDA in 1989, while the approval of Dysport and Xeomin came on 2009 and 2011, respectively, followed by Jeuveau which was approved in 2019. Manufactured by different pharmaceuticals, these medications each have distinct concentration and composition, even though they share a similar active agent – botulinum toxin type A. In comparison with Botox and Dysport, Xeomin acts more similarly to Botox than Dysport. Here is a summary of some of the differences between Botox, Dysport, and Xeomin:
From a structural point of view, Xeomin is highly purified with little or no other additive proteins, while Botox and Dysport contain other accessory proteins. These accessory proteins make the active agent in Botox the largest and heaviest of all there, followed by Dysport. While the clinical effects of these differences are still debated, they may be the underlying causes of some of the other differences discussed below.
Presence of more additive proteins may increase the risk of allergic reactions and the emergence of neutralizing antibodies which may eventually block the effect of Botox or Dysport (Botox/Dysport resistance). The risk of resistance is likely to be less for Xeomin.
The time it takes for Dysport to kick in maybe slightly faster than Botox and Xeomin (typically within 4 days for Dysport versus within one week for Botox and Xeomin).
Generally speaking, 20 units of Botox or Xeomin provide potency similar to 50 units of Dysport. This is because these medications have been formulated by their manufacturer to have different concentrations when reconstituted for injection. However, the cost per unit of each medication is also proportional to the potency, and hence the total regular cost of treatment with either Botox, Dysport or Xeomin for any given area or condition should be very close.
Upon injection, the local diffusion and spread of medication into adjacent tissues are usually in this order: Xeomin > Dysport > Botox. This can be a potential positive or negative depending on the condition that is being treated: For issues such as crow's feet or injections around eyes where a multitude of muscles are present and function, a more focused and localized-acting agent is often desired to avoid affecting other muscles nearby, and this can be best achieved with Botox. In other areas where larger muscles are acting, more spreading of the medication may actually help with more uniform results, and in these cases, Dysport or Xeomin may have the edge. The issue of different diffusion is important when "converting" between Botox, Xeomin, and Dysport units, as doses that are expected to have similar potency may still behave differently due to their different spread into the tissues. In all cases, your physician can make recommendations upon careful examination of your face and conditions that are being addressed.
And last, the most controversial issue: In terms of effectiveness and longer-lasting results, which product is better? There are many anecdotal reports and a number of studies addressing this, but the jury is still out. In a study published in 2011 (Nettar et al, Arch Facial Plast Surg) in which patients received Botox in one-half of their face and Dysport in the other half (with the patients not knowing which side got which medication), patients tended to see better results with Dysport. One caveat was the manufacturer of Dysport agreed to provide financial support to the study but the manufacturer of Botox declined, creating a potential conflict of interest. Another study in 2012 (de Morais et al. J Drugs Derm) concluded that there was no significant difference between Botox, Dysport, and Xeomin, but this study was performed on a very small number of participants, negatively affecting the reliability of the results. Finally, in an independent study published in 2013 (Kassir et al. Dermatol Ther), Dysport results appeared faster and lasted longer.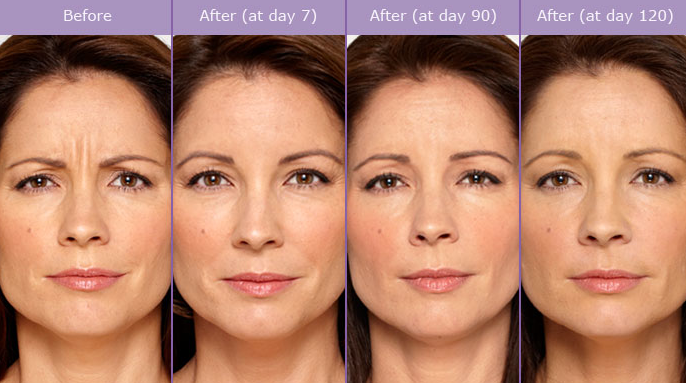 While some evidence may support somewhat better response to Dysport compared with Botox, this should be viewed in light of other important differences between these medications discussed here. The conversion of Botox to Dysport units (often assumed around 1 unit Botox = 2.5 units Dysport) is somewhat tricky and may not be very accurate while some studies may use other conversions. As such, several expert panels have concluded that the available scientific evidence cannot support the superiority of Dysport over Botox or vice versa yet, and more studies are still needed.
Perhaps the most important thing to remember when it comes to Botox, Dysport, Xeomin, and Jeuveau is that the ultimate issue is how the body interacts with them, and our bodies being different from each other, the individual response of patients may be very different. The only thing that can be said with certainty is that some patients may respond better to one or another medication in this family, while some others may show similar results. To make the matter more confusing, the same patient may respond better to one medication now, but that changes as time passes with the patient ending up responding better to another medication. Your doctor often can exploit this fluid nature of the response to your benefit: For patients who may see a decline in response to one type of medication, says Botox, over time, your doctor may recommend you to switch to Dysport, Xeomin or Jeuveau to see if you can get better results.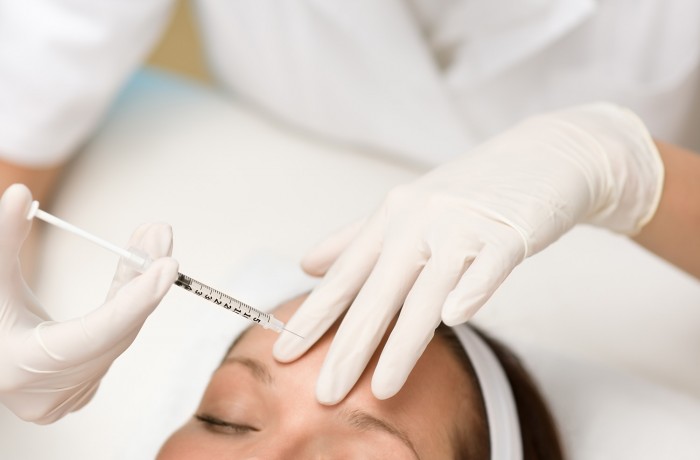 To further explore your treatment options using Botox, Dysport, Xeomin, and Jeuveau and other injectable cosmetic medications for comprehensive rejuvenation, contact our clinic and schedule your complimentary consultation with Dr. Jafari – the top doctor for Botox (Allergan Black Diamond provider), Dysport, Xeomin, and Jeuveau in Irvine, Newport Beach, and Orange County today!
---
PLEASE NOTE:
Minimum units apply to all treatment appointments for Botox (20 units), Jeuveau (20 units), Xeomin (20 units) and Dysport (50 units). In case the needed number of units is less than the minimum number indicated here, the cost of treatment will be based on the indicated minimum units and not the actual number of units injected.
---
Amoderm is pleased to offer Botox, Dysport, Xeomin, and Jeuveau for patients throughout Orange County as well as patients from Los Angeles, San Diego, Riverside, and San Bernardino Counties. The patients we serve come from cities near and far, including Aliso Viejo, Anaheim, Costa Mesa, Cypress, Dana Point, Foothill Ranch, Fountain Valley, Fullerton, Garden Grove, Huntington Beach, Irvine, Ladera Ranch, Laguna Beach, Laguna Hills, Laguna Niguel, Laguna Woods, Lake Forest, Mission Viejo, Newport Beach, Newport Coast, Orange, Placentia, Rancho Santa Margarita, San Clemente, San Juan Capistrano, Santa Ana, Tustin, Westminster, Yorba Linda and more.