Sculptra® is one of the latest and most advanced FDA-approved dermal fillers that can be used to replenish lost volume and skillfully rejuvenate your face. It can be used to volumize shallow and deep wrinkles and folds on the face specifically around the cheeks and temple areas.
What makes Sculptra different from other dermal fillers is its unique mechanism of action. Unlike fillers that directly replenish the components of an extracellular matrix such as hyaluronic acid or collagen, Sculptra acts as a bio-stimulatory filler, which stimulates the body to produce native collagen at sites of injection. Hence, the results are typically more subtle initially, but more prominent and long-lasting in the long run.
The active component of Sculptra, poly-L-lactic acid (PLLA), is a biodegradable polymer in the form of tiny particles derived from natural resources such as corn starch. Once injected, the PLLA particles spread throughout the deep layers of the skin and elicit a tissue response over the course of weeks to months, resulting in a production of new collagen. The PLLA particles are eventually metabolized and fully absorbed by the body.
The unique way Sculptra works means that it can target the underlying causes of facial aging using the body's own healing and rejuvenating power. It can bring about noticeable results that emerge subtly and can last for more than 2 years. Sculptra works within the deep layers of the skin (dermis), and it helps to restore and replace the collagen that is lost as a result of aging. This new collagen reinforces the skin's structure and provides a foundation that gradually restores the natural and youthful fullness of the skin and diminishes the wrinkles and folds that have depleted over time. This can provide a refined, more youthful-looking appearance that can last for more than 2 years. Moreover, thanks to the artful expertise and skills of highly trained Orange County physicians of Amoderm, the results will look more natural, to ensure that fresh and youthful appearance of the face is restored. As is the experience of most of our patients, their friends and family will notice that they look more youthful and elegant, but they cannot figure out why!
It is important to remember that given the unique mechanism of action of Sculptra, the results will typically need more time to set in. The initial swelling following the injection usually goes away within days after the injection which may result in the wrinkles and folds reappearing. In the meanwhile, the microparticles of PLLA stimulate the production of new collagen starting around 2 weeks after the injection and the volume is gradually restored. To ensure that collagen production is optimal, the treatment should be performed typically in 3 sessions, each 4-6 weeks apart.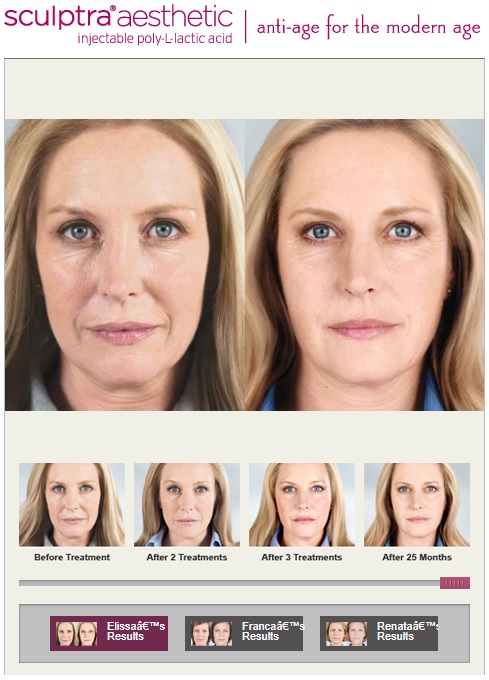 IMPORTANT INFORMATION:
INTENDED USE / INDICATIONS
Sculptra® Aesthetic is indicated for use in immune-competent people as a single regimen for correction of shallow to deep nasolabial fold contour deficiencies and other facial wrinkles in which deep dermal grid pattern (cross-hatch) injection technique is appropriate. (This corresponds to Wrinkle Assessment Scores (WAS) of 2 to 4 in Figure 2 and the cross-hatch injection technique presented in Figures 3-7 in the Instructions for Use Section of the Sculptra Aesthetic package insert).
IMPORTANT SAFETY INFORMATION FOR SCULPTRA® AESTHETIC
Sculptra® Aesthetic is contraindicated in individuals with known hypersensitivity to any of its components or in patients with a known history of or susceptibility to keloid formation or hypertrophic scarring. Sculptra® Aesthetic should not be injected in areas with active skin infection or inflammation. Avoid injection into the blood vessels or the lips. Use in the periorbital area is not recommended.
Adverse events include immediate and transient injection-related adverse events such as bleeding from the injection site, discomfort, erythema or inflammation, ecchymosis, pruritus, and edema. Other adverse events include the delayed occurrence of subcutaneous papules, which are confined to the injection site and were typically palpable, asymptomatic, and non-visible. Visible nodules, some with delayed onset with or without inflammation or skin discoloration, have also been reported. In the pivotal clinical study, the numbers of papules and nodules were low and most resolved without treatment.
For full prescribing information, click here.
Real Results at Amoderm Cosmetic and Wellness Medical Center with Sculptra Treatment