Collagen is what gives volume, flexibility and strength to healthy, young skin. As a part of the aging process, our own natural collagen breaks down, diminishing facial volume and elasticity. This loss of elasticity and volume results in wrinkles, facial lines and skin laxity – all of which rob our skin of its youthful, fresh appearance.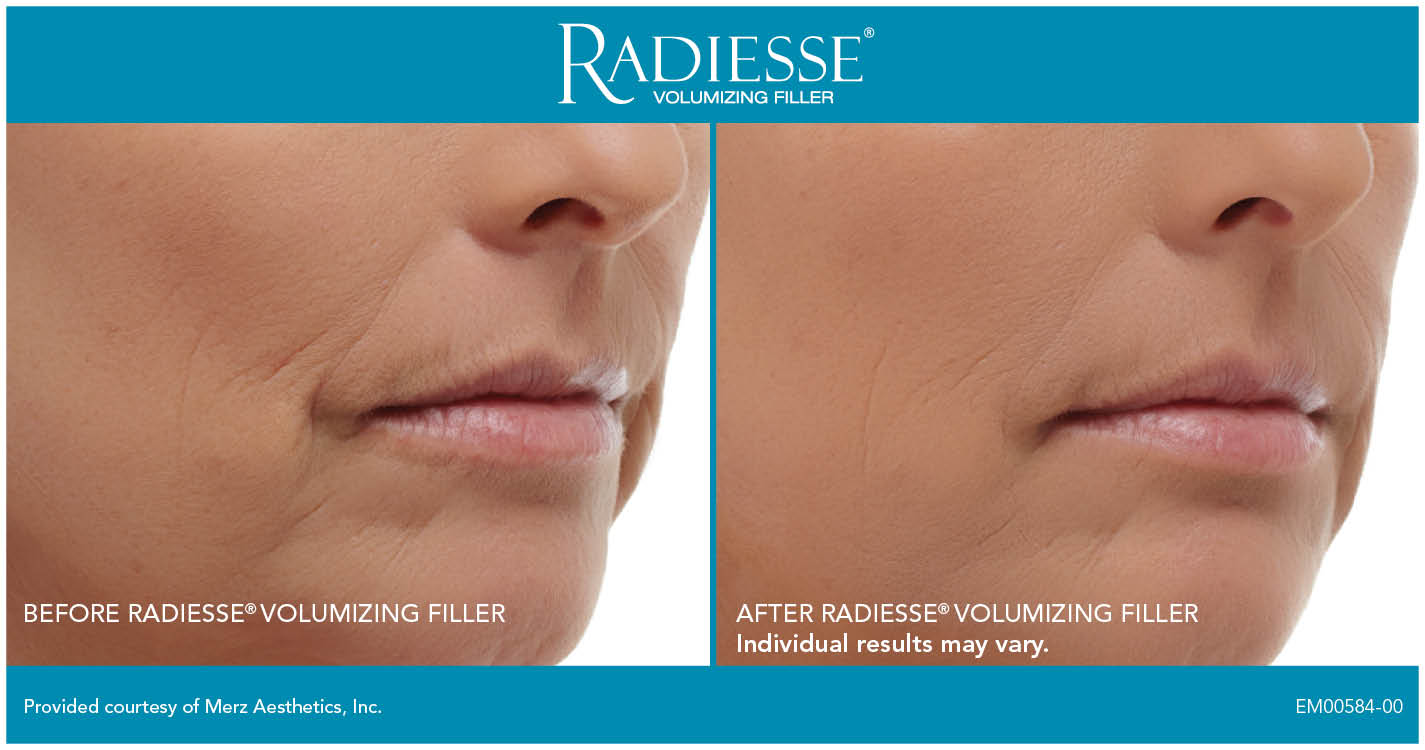 Replenish Volume. Restore Collagen. Refresh You.
Ideal wrinkle reduction is achieved by replenishing the skin's lost volume. Upon injection, Radiesse® Volumizing Filler immediately provides the volume and lift needed to diminish the signs of aging, thanks to the specifically-formulated calcium-based microspheres and gel that comprise the product. What is unique about Radiesse® Volumizing Filler is that it acts as a scaffold under the skin, providing structure and stimulating your own natural collagen to grow. This process continues for several months, which extends the initial effect of Radiesse Volumizing Filler. Best of all, the natural results are clinically proven to last a year or more and achieve long-lasting facial rejuvenation in many patients.
Radiesse® Volumizing Filler targets the key areas that are important to you:
Smile lines: Smile lines – also known as nasolabial folds – run from the side of the nose to the corner of the mouth, and are the result of the loss of facial volume and skin elasticity as we age. They can make you look older, tired, or unhappy – even though you feel young and vibrant. Fortunately, treatment with Radiesse® Volumizing Filler can replenish youthful volume and stimulate collagen production in this area, minimizing the appearance of those pesky facial wrinkles and folds that mask our smiles.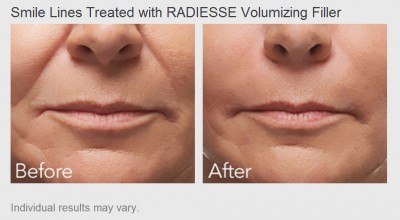 Marionette Lines: These lines that run downward from the corners of the mouth can make you look like you are frowning, even when you are not. They start out as fine lines but can turn into deeper creases as we age and lose facial volume. Radiesse® Volumizing Filler does more than just fill these troublesome lines, it immediately restores lost volume and stimulates the production of your own natural collagen; something no other filler does.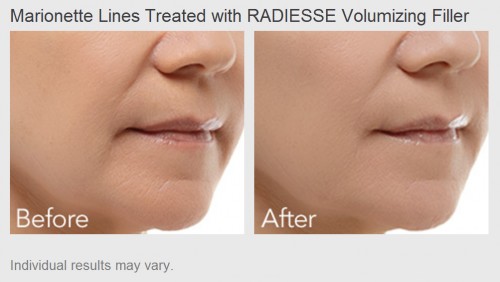 Corners of the Mouth: The corners of the mouth are also known as the oral commissure and as you age, you can lose volume in this area. The result is a downturned appearance of the mouth that can make you look like you are frowning or sad. In addition, volume loss in this area often leads to the formation or the deepening of already-formed marionette lines. Because Radiesse® Volumizing Filler replenishes lost volume and stimulates the body to produce its own natural collagen; it can provide volume back into this area, giving you a more refreshed and youthful appearance.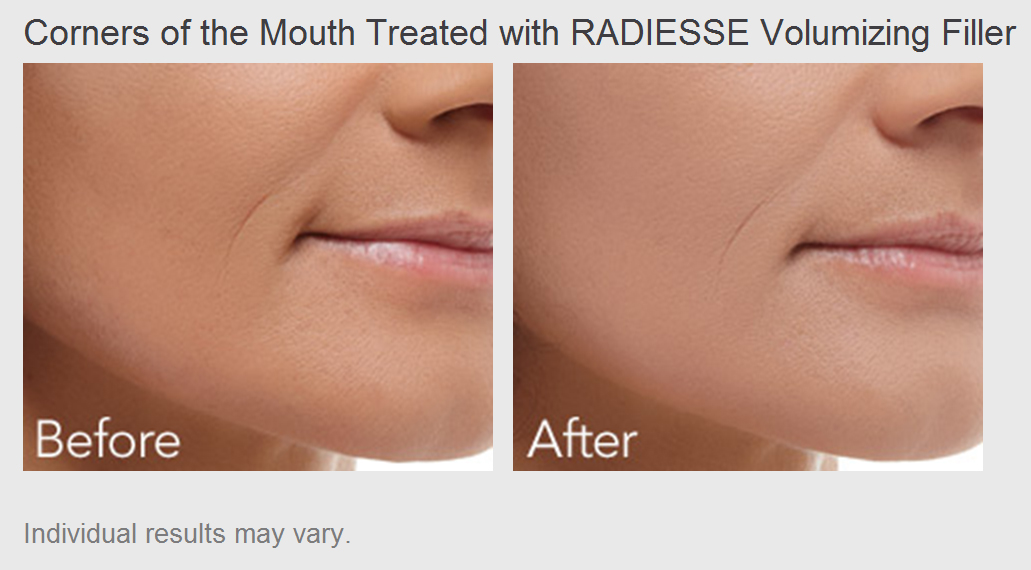 Pre-Jowl: A little-known area of the face that can make a big impact on the way we look is the pre-jowl sulcus which is the area on either side of our chin. Facial volume loss associated with the aging process results in a hollowing of this area. As a result, jowls form as our face begins to lose volume and sag into the lower third of our face. Replenishing the volume lost in this area can lead to an overall more youthful appearance. Treatment options for the pre-jowl sulcus are not limited to costly surgical procedures like facial implants or face lift surgery. Radiesse® Volumizing Filler provides a minimally invasive procedure that replenishes lost volume in this area and provides the lift needed to restore a smooth, youthful jawline.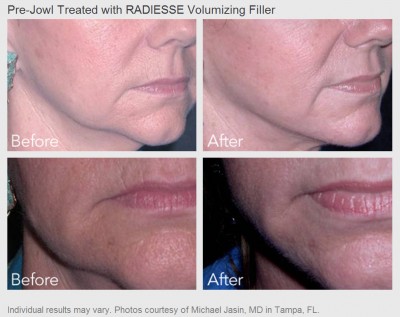 Chin Wrinkles: Wrinkles on your chin are possible when you experience facial volume loss. Radiesse® Volumizing Filler can quickly and easily restore volume to your chin to minimize the appearance of wrinkles and give it an overall smoother, more youthful appearance.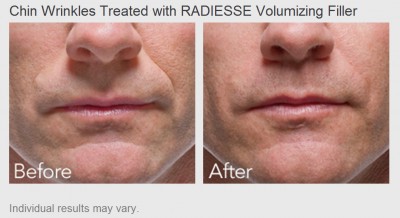 Why Choose Radiesse® Volumizing Filler?
Radiesse is the only filler that immediately replenishes lost volume and stimulates the production of your own natural collagen for long-lasting results.
Radiesse is clinically proven to last a year or more in many patients.
Radiesse patients are significantly more satisfied than patients treated with other leading wrinkle fillers.
Radiesse is FDA-approved to mix with lidocaine to significantly reduce injection related pain.
Treatment with Radiesse Volumizing Filler is quick, comfortable and convenient, with immediately visible, long-lasting results.
What Is Radiesse(+)?
Radiesse(+) (Radiesse Plus) is similar to Radiesse, but it also contains Lidocaine – a topical anesthetic – which helps to greatly reduce any discomfort that might be associated with Radiesse injection. Once injected, Radiesse (+) acts similar to Radiesse to add volume and smooth out lines and wrinkles, with results typically lasting long-term.
For further information about Radiesse, please contact Amoderm today to learn more about how it can benefit you.
Real Results at Amoderm Cosmetic and Wellness Medical Center with Radiesse Treatment