Micro-Needling (Microneedling) is an effective rejuvenation and anti-aging treatment for all skin types and it is great for reducing lines, wrinkles, stretch marks and scars (e.g. acne scar and surgical scar) on the face, neck and décolletage. When performed skillfully by your experienced clinician, it can greatly stimulate production of new collagen and elastin in the skin and contribute greatly to restoring the youthful appearance of the skin.
The idea behind medical Microneedling (Cosmopen and related treatments such as dermarollers, DermaPen and MicroPen) is quite simple. Microneedling relies on introducing small (micro) channels into the upper layers of skin in a controlled manner which stimulate and activate body's own healing and rejuvenating potentials, triggering the skin fibroblasts and keratinocytes to release a flurry of growth factors, resulting in cells making (and remodeling) new collagen and elastin and other components of healthy, youthful skin and the skin becomes firmer and tighter with reduced lines and wrinkles. Micro-needling can also breakdown old and new scars and stimulate body to heal the scar tissue.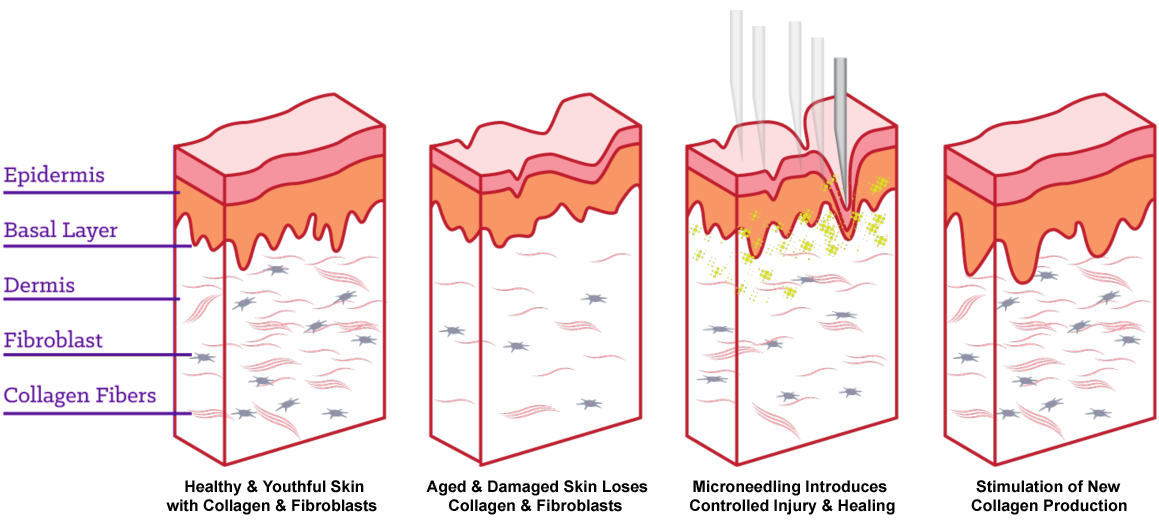 What Conditions Can Be Treated with Microneedling?
Micro-needling is effective for various skin conditions and purposes including:
Reducing wrinkles and fine lines
General skin rejuvenation and anti-aging
Skin tightening
Improving skin texture and pore size
Reducing surgical scars
Reducing acne scars
More effective topical application and delivery of skincare products
What is Special about Amoderm Micro Needling Treatment?
At Amoderm, your clinicians use an advanced automated micro-needling device that is capable of delivering the right number of microchannels with the appropriate depth at right intervals in a controlled way. Thanks to its advanced features, Amoderm micro needling treatment offers several advantages to other similar micro needle and dermaroller treatments. The point of contact with the skin is an automated, disposable and single-use head with several fine needles which vibrate back and forth quickly at a speed that is controlled by your clinician. Being single-use, there is no hygienic risk or concern of transmitting germs from one patient to another. The depth of penetration is also adjusted by your clinician depending on the treatment goals and skin conditions. The more precise micro-channels leads to less discomfort during the treatment and lower risk of infection and other complications.
What to Expect Before the Microneedling Treatment
Before the treatment day, a consultation is performed during which your doctor will evaluate your skin and discuss the treatment options and expected results and other considerations with you. It is more prudent to avoid areas of active acne or infection and other active skin lesions during the treatment.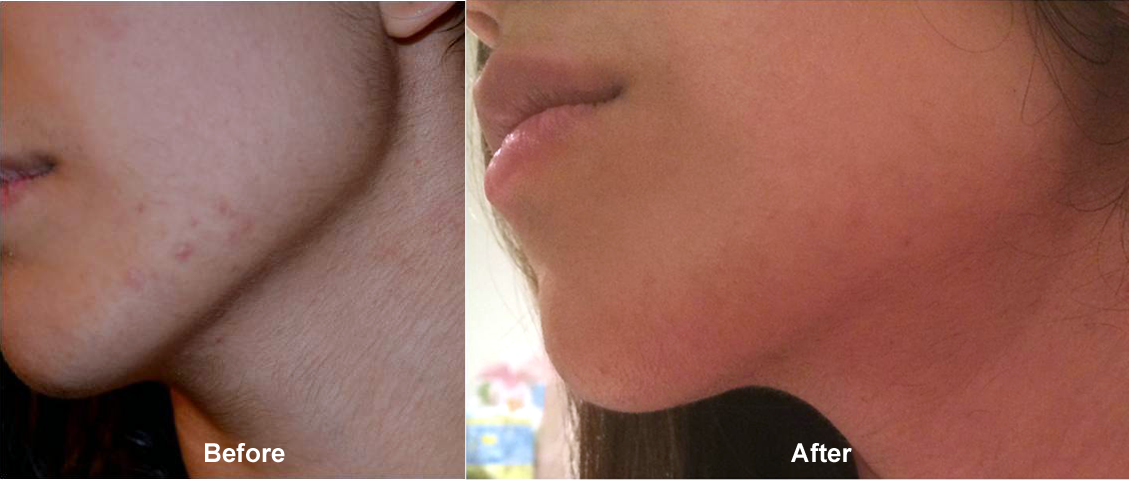 What to Expect During the Microneedling Treatment
On your day of Micro-needling treatment, first your skin is numbed with topical anesthetic cream to ensure a virtually pain-free treatment. Then the skin is cleaned. Your clinician loads a new sterile tip on the Microneedling device, adjusts its speed and depth of penetration and performs a few passes on your skin in circular, horizontal and vertical directions. Depending on the treatment goals and skin conditions, specific topical skin products rich in vitamins (vitamin A, C and E), hyaluronic acid, antioxidants and growth factors can be applied during the treatment which will be absorbed more effectively. The micro-channels usually stay open for about 10 to 15 minutes and may be marked by small pin-point (punctate) bleeding spots which are self-limiting. At the conclusion of the treatment, a cool, hydrating and soothing mask is applied on the skin to facilitate healing and more comfort.
What to Expect After the Microneedling Treatment
Following the treatment, you may experience some skin redness, mild swelling, and minimal bruising and pinpoint bleeding spots. There is usually no downtime and skin recovery can take a few days. Use of a mild moisturizer and sunscreen is highly recommended during the days following the treatment. Mineral make up can also be used following the treatment. The treatment results usually appear gradually over the following weeks in form of smoother and more radiant skin and within a few months as collagen production continues, maximal skin tightening and rejuvenation is expected.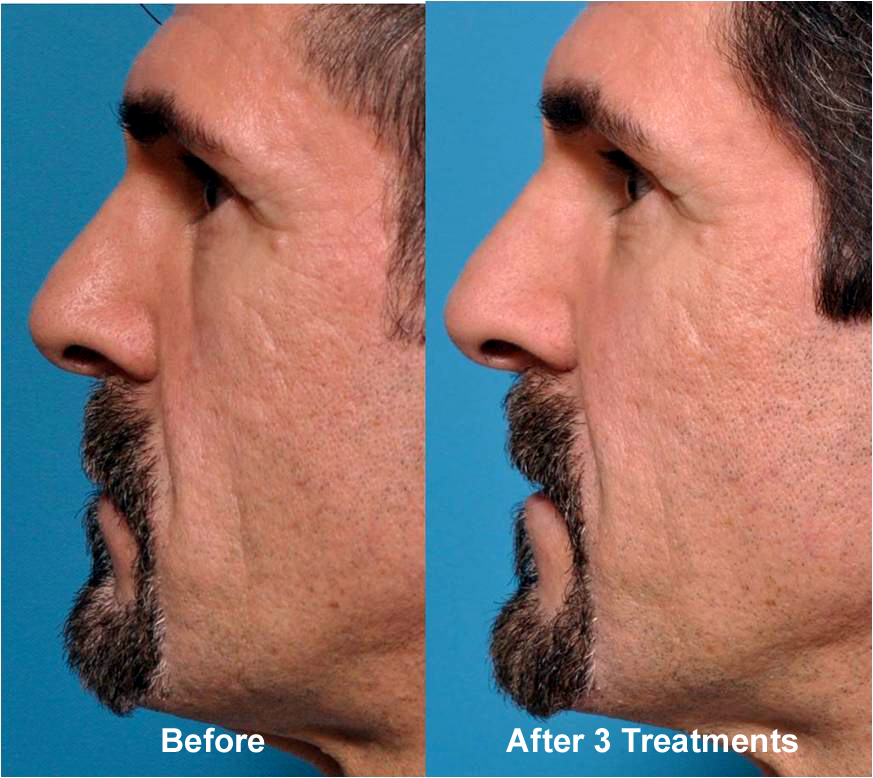 How Many Treatments Are Needed and How Often?
Repeat treatments is recommended for best results. For skin rejuvenation and skin tightening and reduction of lines and wrinkles, 5-8 sessions are recommended. For scars and acne scar, 6-8 treatments are usually needed. Treatment sessions can be spaced as early as 1-2 weeks apart.
Is the Treatment Painful? Is It Safe?
Micro-needling is generally a safe and well-tolerated treatment with no or minimal downtime. Any pain or discomfort during the treatment is usually well controlled with the topical anesthetic cream applied to the skin prior to the treatment as well as the cool mask that is applied at the end of the treatment. The skin may be red for a short period following the treatment. Other side effects are rare and may include skin infections, pigmentation changes and reaction to skin care products applied during the treatment.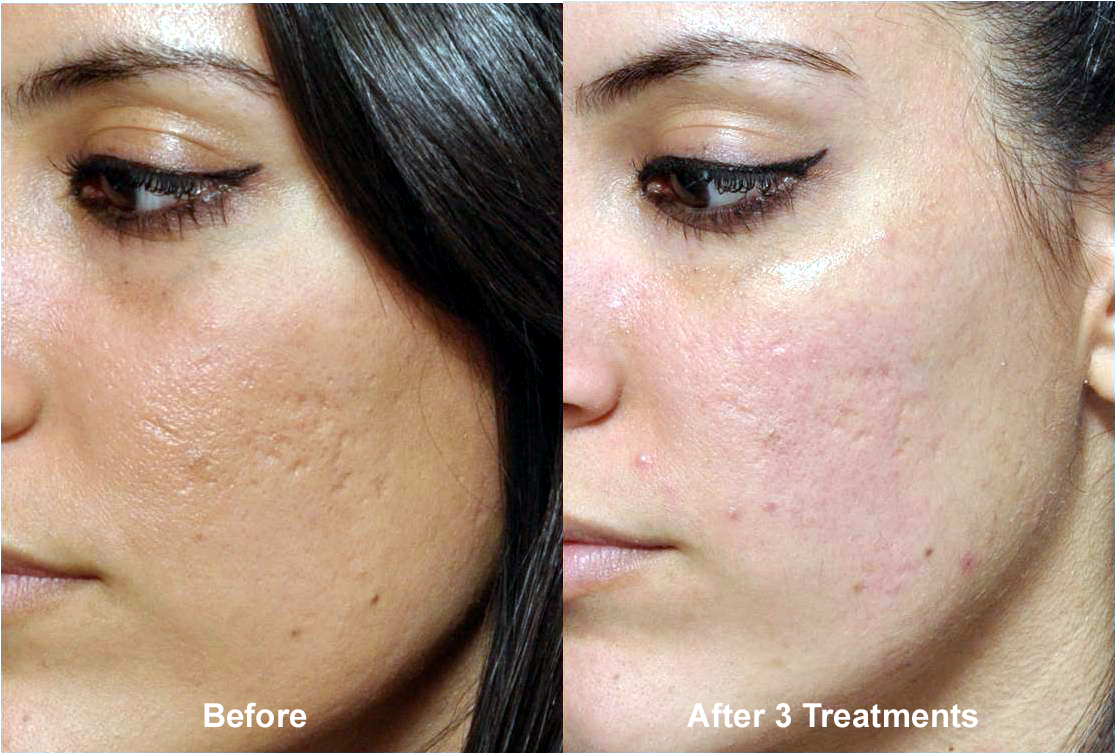 How Does Microneedling Compare with Fractional CO2 Laser?
Both Microneedling and CO2 laser are highly effective treatments for skin tightening and rejuvenation and for treatment of scars, stretch-mark and other skin issues. Generally speaking, fractional CO2 laser is more effective as it provides coagulation while penetrating the skin and allows deeper and more extensive treatments, but it comes with some downtime. On the other hand, Microneedling has minimal downtime and may be preferred for patients who would like to avoid the downtime, and a series of Microneedling treatment can often achieve similar results of a fractional CO2 laser treatment. We offer complimentary consultations prior to any treatments to discuss all options with you and help you choose the best course of action.
To schedule your complimentary consultation with the leading Micro Needling clinic in Orange County, contact us today and learn more about this and other antiaging and rejuvenating treatments we offer!
Real Results at Amoderm Cosmetic and Wellness Medical Center with Micro Needling Treatment