Duet Special Is Back!
20 Units of Botox with Purchase of Fillers
Combined use of dermal fillers with Botox (or Dysport, Jeuveau or Xeomin) is a great way of achieving whole-face rejuvenation for balanced and natural looking results (or the widely known Liquid Facelift procedure). Due to great demand, we are pleased to offer a limited-time and limited-supply special for extra savings when getting these treatments together:
Complimentary 20 units of Botox when you get 2 cc of any fillers during the same visit.
Can substitute 20 units of Botox with 20 units of Jeuveau or Xeomin or 50 units of Dysport.
ll filler+Botox treatments should be done within the same visit and no later than end of Aug, 2022 for the same client.
Limited to first 60 clients.
Please mention the promo code DUET2022 to get this offer. See other important terms & conditions below. Please note that this special cannot be combined with other specials, offers or programs and is valid only as long as supplies last and no later than Aug 31, 2022.
Click here to place your $200 deposit to reserve your spot for this offer before it expires!
*) Terms & Conditions: Please note that this offer cannot be combined with any other offers, promotions, programs (including referral credit), certificates or coupons and it is only valid while supplies last and for the first 60 clients and it might be terminated at any times without prior notice. If not terminated earlier, the offer expires on 08/31/2022. Please make sure to check with the office to ensure the offer is still available. Limit one offer per patient. Minimum purchase of 2 cc of fillers required. Offer cannot be applied toward prior purchases or prior price quotes. Adjustment and touch-up treatments are not eligible. All purchased/promotional filler and Botox treatments must be performed during the same appointment and for the same patient no later than 08/31/2022. There is no refund (even partial refund) once the treatments are received. Any unused Botox (or substituted Dysport, Xeomin or Jeuveau) units will be lost and cannot be used during future visits. Complimentary consultation is included for new patients. Appointments are required and are subject to availability. All treatment appointments require prepurchase or $200 deposit that can be place online here. 48-hour cancellation/rescheduling notice or $200 penalty applies. Individual results may vary and no specific results can be guaranteed. Treatments can be performed for FDA-approved indications or on off-label basis as deemed appropriate by Dr. Jafari. Offer subject to termination without prior notice. No cash value.
SculpSure Offer
Buy 3 Sessions, Get 1 Session Free (4 sessions for $2970)
SculpSure is a highly effective and selective treatment to destroy stubborn and unwanted fat under the skin. SculpSure uses an innovative laser that is selectively absorbed by fat cells under the skin, with minimal absorption by the other tissues. As fat cells absorb the laser energy, their temperature rises reaching a level that destroys them, a process known as lipolysis. The killed and injured fat cells are gradually removed from the treated area by the body's natural lymphatic drainage. The temperature in the treatment area is carefully and constantly controlled by the device and once the therapeutic temperature is reached, the temperature is fluctuated between warm and cold levels to avoid and minimize any discomfort to the patients.
*) Terms & Conditions: Each treatment session includes the areas covered by 4 laser heads. SculpSure special is valid until 8/31/2022. Special pricing does not apply to prior purchases or quotes. There is no limit on the number of sessions that can be purchased under this offer but all purchased treatments must be completed within 12 months of purchase date. All sales are final and unused treatments will be converted to office credit for the amount paid that can be used to purchase other treatments from Amoderm. Appointments required and subject to availability. 48-hour cancellation/rescheduling notice or fee starting from $50 applies. Individual patient's results may vary. Complimentary consultations provided and required for patients who are doing SculpSure at Amoderm for the first time. No cash value.
Jeuveau (Newtox) Special
$40 Discount for Patients Doing Jeuveau Again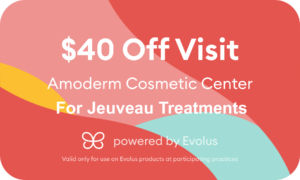 For a limited time and while supplies last, get $40 discount when you get 20 units Jeuveau after 90 days since your last Jeuveau treatment at Amoderm!
Try the Newest Botox Alternative, Newtox!!
*) Terms & Conditions: Manufacturer's $40 coupon is activated through your cell phone and manufacturer's terms and conditions apply. Patients who have had Jeuveau treatment before may be eligible for the $40 coupon provided that at least 90 days have passed since their prior Jeuveau injection at Amoderm or any other clinics. Instructions to activate the coupon and redeem it will be provided during your visit. Remember to bring your cell phone with you in order to activate the coupon. Jeuveau injection by Dr. Jafari is currently $10/unit. Minimum 20 units required. No cash value. Manufacturer's instant rebate, subject to their terms and conditions; while supplied last.
Venus Freeze Special
Buy 4 Sessions of Venus Freeze for Body/Limbs, Get 2 Additional Complimentary Sessions on the Same Area
Venus Freeze
is an FDA-approved non-invasive and pain-free treatment that combines therapeutic radiofrequency with magnetic pulsing to awaken the body's natural healing and rejuvenating capabilities and stimulate new collagen synthesis. Venus Freeze is used for:
Cellulite Reduction
Circumferential Reduction
Wrinkle Reduction
Skin Tightening
Venus Freeze
works gradually and for best results, a series of treatments (6-10 sessions) is recommended. The procedure is safe and pain-free and it has no down-time and can be done as quickly as once every week.
List of areas
:
Full Arms, Full Abdomen, Flanks, Front of Thighs, Back of Thighs or Calves: $350 per session each - Special: $1400 for 6 sessions on each area
Full Buttocks: $425 per session - Special: $1700 for 6 sessions
Full Thighs: $550 per session - Special: $2200 for 6 sessions
*) Terms & Conditions: Offer is valid through end of August 2022. Limited time offer, subject to change or termination at any time without prior notice. Offer cannot be combined with any other offers, promotions, coupons, or vouchers. Offer cannot be applied to prior purchases. Venus Freeze special is only valid for 6-session packages for the body on the same area for the same patient and cannot be prorated for fewer or single sessions. A complimentary consultation is included in all Venus Freeze purchases. Appointments are required and subject to availability. 48-hour cancellation or rescheduling policy or $50 penalty applies ($100 penalty for missing appointments 1 hour or longer). Individual results may vary. No cash value. Void where prohibited.