For years people with recessive or small chin have had limited choices including surgical chin implants. With the emergence of advanced fillers, now your doctor has more options to offer. During non-surgical chin augmentation and chin enhancement, your doctor uses carefully selected dermal fillers to reconstruct your chin and create a natural-looking and more prominent chin with an improved contour that better matches your face.
One of the key aspects of natural beauty is the proportion of various features of the face in relation to each other. Having a chin that is too small or recessive (receding or weak chin) can negatively affect your look while a balanced, nicely contoured and proportional chin is critical in enhancing your natural beauty.
Treatment options for correction of small chin have been traditionally limited to chin implants. Chin implants are great options and they do work, but they often require surgery with significant downtime. Additionally, many patients might not want to have a permanent or long-term foreign body implanted in their body. Keep in mind that our face does not stay the same and as time passes, it undergoes changes. A treatment result that looks good today might not look that good after a few years, and treatments with more controllable results that can be easily adjusted or renewed overtime are often preferred by many.
At Amoderm, Dr. Jafari specializes in liquid facelift and various nonsurgical cosmetic treatments. One of the most popular treatments offered by Dr. Jafari is non-surgical chin enhancement. The procedure is done to reshape and sculpt the chin and to correct weak and poorly-defined and under-projected chin and to achieve a more beautiful and balanced look and contour without surgery or downtime.
During this procedure, Dr. Jafari first evaluates your face to determine if your chin is indeed disproportional for your face and she devises an individualized treatment plan for you which includes an individualized selection of FDA-approved dermal fillers. The consultation also includes detailed picture analysis (including a review of before and after pictures of other similar patients). She then skillfully performs the injection (using flexible micro-cannula whenever permissible for less bruising and swelling) and places fillers deep under the skin in carefully-selected locations to enhance your chin and reconstruct a natural-looking chin profile with a contour and prominence to march your face. In women, this can greatly contribute to a more balanced "V-shaped" overall face look which is one of the hallmarks of beauty. In men, Dr. Jafari can also create a more defined and square jaw for a sharper and more masculine look. Every patient is different and requires an individualized approach which will be discussed with each patient to help in achieving desirable results.
Nonsurgical chin enhancement and reconstruction can be performed with various fillers including Juvederm or Restylane (shorter-term), Radiesse or Voluma (longer-term), or Bellafill (for longest-lasting results). While the choice of filler for an individual patient can only be determined based on the consultation, Dr. Jafari usually recommends Voluma for chin augmentation to achieve a good balance in terms of the longevity of the results as well as achieving a nice contour. As a hyaluronic acid filler, Voluma offers more flexibility for future revisions if needed as well.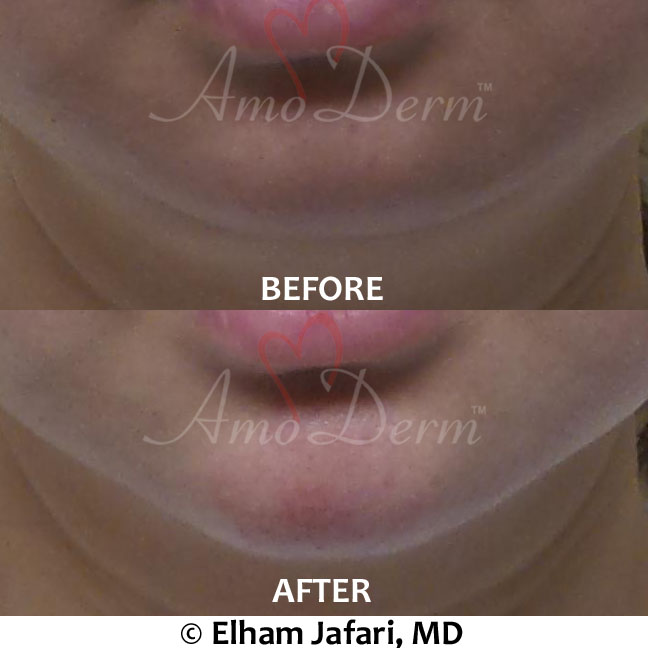 Following the chin augmentation and enhancement procedure, the results emerge immediately but it might take up to 2 weeks for the final results to fully settle in and at that time, if there is a need for any further revisions or correction, a follow-up visit can be scheduled. The results typically last anything from several months to several years depending on the type of fillers used.
At Amoderm, our focus is on your whole face and we strive to achieve natural-looking results that fit perfectly with the rest of your facial features. To further enhance the look, other treatments such as jawline reconstruction or nonsurgical nose job with filler and reduction of submental fat (double chin) with Kybella can be considered. Combined use of these and other treatments can often achieve the best results. To further discuss your individual needs and learn about all the options available, we invite you to schedule your consultation today!
Real Results at Amoderm Cosmetic and Wellness Medical Center for Nonsurgical Chin Augmentation Cosmetic Treatments