HydraFacial® is a revolutionary skin treatment that combines several critical steps of exfoliation, extraction, and hydration of skin into one convenient package while providing an option for delivering specifically formulated serums designed to reduce fine lines and wrinkles, brighten the skin and more. The result is healthy, hydrated, cleared and refreshed skin that glows!
Our skin is our body's first line of defense against all harmful environmental factors, from various toxins and irritants to ultraviolet rays in sunlight. The constant beating our skin takes will soon leave our skin dry, dull, congested, wrinkled, pigmented, and damaged. HydraFacial is a unique skin maintenance treatment like no other, as it combines several steps that are necessary for restoring and keeping skin healthy in a non-invasive and convenient treatment package that takes less than an hour.
How Does HydraFacial Work?
HydraFacial is a patented skin treatment that combines mechanical exfoliation as seen in microdermabrasion and chemical exfoliation as seen in chemical feels and take skincare and maintenance to the next level not seen in other treatments. During the treatment, your Esthetician uses a specific handpiece equipped with various carefully selected disposable tips to treat the skin a number of steps. During each step, a specific blend of skincare products and agents are delivered by the handpiece to the skin while the skin undergoes cleansing, peeling, extraction, hydration, restoration and protection.
What Are the Different Types of HydraFacial?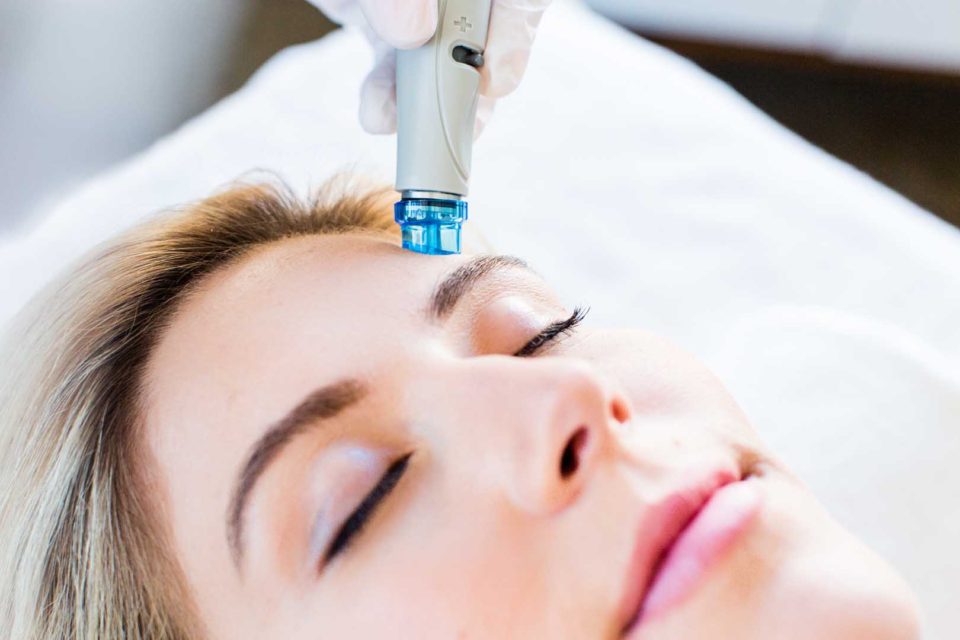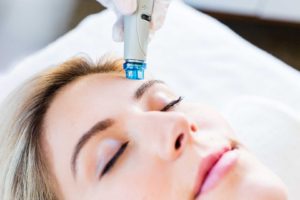 At Amoderm we offer different types of HydraFacial treatments, each designed to address specific conditions and needs.
– Signature HydraFacial is the standard HydraFacial treatment which is designed to deeply cleanse and peel the skin, extract the impurities and clogged pores and hydrate and replenish the skin using a specific serum rich in antioxidants, peptides and hyaluronic acid. Here are the 3 steps included in standard Signature HydraFacial:
Cleanse + Peel: This step involves uncovering a fresh and renewed layer of ski with gentle exfoliation and resurfacing of skin.
Extract + Hydrate: In this step, impurities and debris are removed from the pores by suction (and individual extractions as needed) and skin is nourished and quenches with intense moisturizer serums.
Fuse + Protect: In this step, the skin is saturated with peptides and antioxidants to maximize restoration and protection.
– Deluxe Hydrafacial includes all steps in the Signature HydraFacial but it also adds the option of infusing skin with a number of advanced booster serums to target specific issues. Here are the 3 standard boosters that can be used in Deluxe HydraFacial:
CTGF: Rich in growth factors, CTGF is applied to the whole face to minimize the appearance of fine lines and wrinkles and rejuvenate skin. Deluxe HydraFacial treatment with addition of CTGF booster is called Restorative Deluxe HydraFacial.
DermaBuilder: Rich in peptides and other antiaging ingredients, Dermabuilder is used for spot-treatment of areas of skin with more aging-damaged to reduce and smooth out fine lines and wrinkles and enhance skin natural elasticity. Deluxe HydraFacial treatment with addition of DermaBuilder booster is called Age-refinement Deluxe HydraFacial.
Britenol: Formulated with potent skin brightening agents such as arbutin, vitamin C and bearberry extract, this booster is specifically designed to target areas of skin darkening and hyperpigmentation to help with brightening the skin and minimizing the appearance of dark spots, brown spots and sunspots. Deluxe HydraFacial treatment with addition of Britenol booster is called Radiance Deluxe HydraFacial.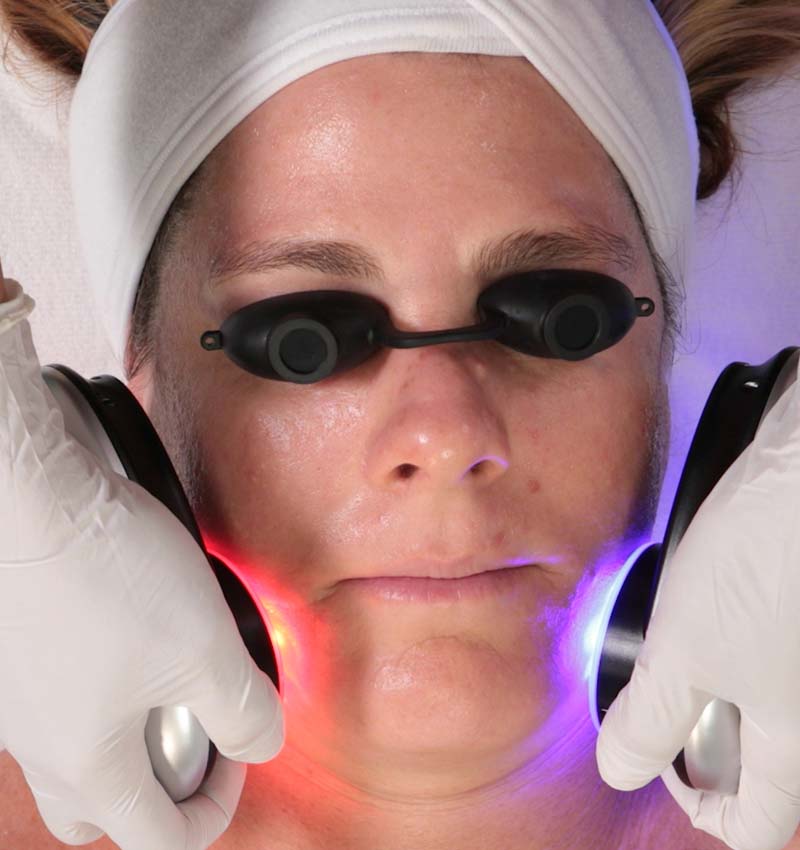 During your Deluxe HydraFacial treatment, your Esthetician will carefully analyze your skin and discuss the recommended booster that best fits your skin needs with you.
– Clarifying HydraFacial includes all steps in Signature HydraFacial, but it also includes extended extractions as well as light therapy with HydraFacial Blue LED light to clarify congested, oily and acne-prone skin.
– Platinum HydraFacial is the ultimate HydraFacial treatment, offering all the steps in Signature HydraFacial as well as the choice of boosters and LED lights as in Deluxe HydraFacials. Additionally, Platinum HydraFacial includes an initial step of Lymphatic Therapy to help with detoxifying skin and underlying tissues.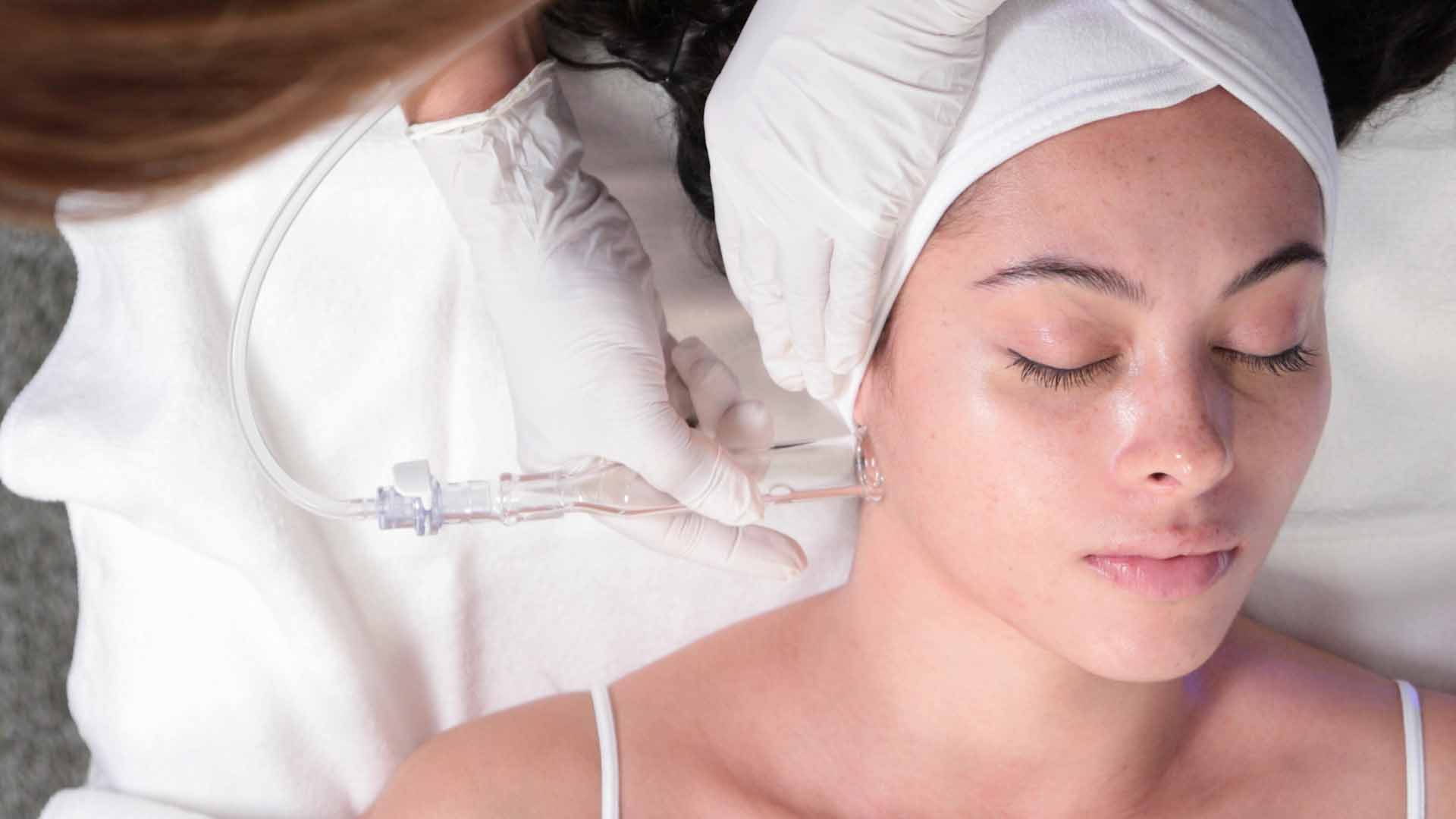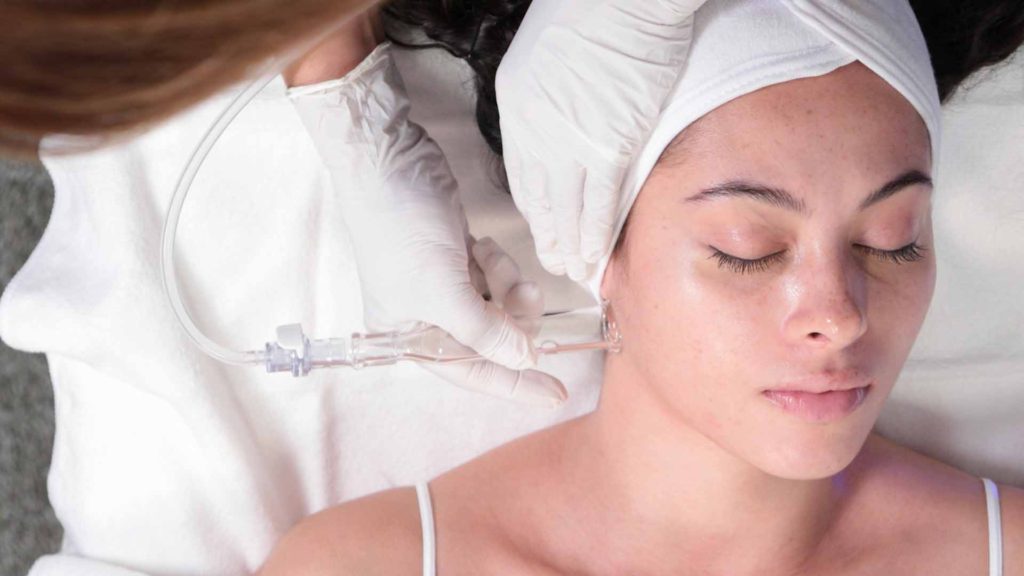 What Is HydraFacial Perk?
Perk is an additional step that can be added to HydraFacial to further personalize it with focusing on lips (HydraFacial Perk Lip) or around and under the eyes (HydraFacial Perk Eyes). Perk is an additional single-use handpiece with a ball-point roller tip that is gently applied to the lips or around the eyes to further cleanse and hydrate them.
HydraFacial Perk Lip treatment is specifically designed to help with restoring, repairing and revitalizing the delicate skin on the lips. The treatment will lead to refreshed, hydrated and lightly plumped lips. Following the treatment, the Perk handpiece is given to you to take home and you can continue the treatment in the following day by applying it to your lips similar to a lip balm for continued protection and restoration.
HydraFacial Perk Eye treatment targets the extremely delicate skin around the eyes which is often the first area to show lines and wrinkles and other signs of skin aging. HydraFacial Perk Eye treatment specifically refreshes, restores and brightens the skin around the eyes, helping with fine lines and shadows under the eyes.
Which Skin Types Can Be Treated with HydraFacial?
HydraFacial can be used for literally all skin types, even those with highly sensitive skin. The treatment can be customized in various way to meet the specific needs of your skin.

What Is the Downtime?
There is no downtime. Following the treatment, the skin is typically restored to a well-hydrated, cleansed, refreshed and glowing state and normal daily activities can be resumed.
Is the Treatment Painful?
No, HydraFacial is not painful. During the treatment, you lie comfortable on the treatment bed while your Esthetician performs various steps of the treatment.

How Long Does a Typical HydraFacial Take?
The standard Signature HydraFacial usually takes around 30-40 minutes but depending on additional steps such as boosters, LED light therapy, extended extractions and lymphatic therapy, the treatment can take longer up to around an hour.
What Are the Typical Results?
HydraFacial works by cleansing, peeling, extracting, protecting and hydrating the skin. As a result, most patients will enjoy restored, radiant and hydrated skin with improved tone and texture that can last for hours to days. Over time with more treatments done, skin health is improved and restored and depending on the boosters and other steps added, improvements in fine lines and wrinkles, dark/brown spots, skin congestion and acne breakouts might be seen. Individual results may vary.

How Frequently Should the Treatment Be Done?
Our skin is constantly exposed to harmful environmental factors and hence, it requires routine and ongoing maintenance. For best results, doing HydraFacial treatment on a monthly basis is recommended to help restoring youthful and healthy skin.
For this reason, at Amoderm we offer HydraFacial Club program under which you can sign-up for monthly HydraFacial treatments with a 6-month commitment. This program provides the greatest discounts on HydraFacial treatments and it is the best choice for those interested in restoring and maintaining healthy youthful skin.
Contact Amoderm today to get more information on HydraFacial and its various options and start enjoying all the benefits of HydraFacial to restore, nourish and protect your skin.

Real Results at Amoderm Cosmetic and Wellness Medical Center with HydraFacial Treatment