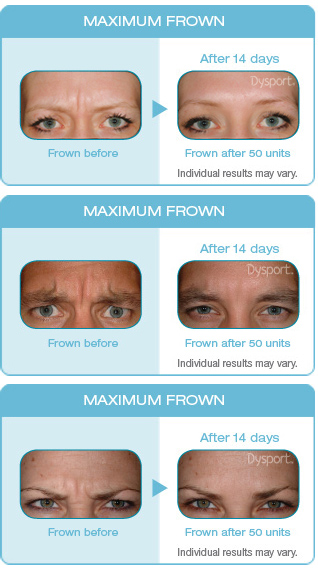 Dysport® works similar to Botox® and it is a prescription injection for temporary improvement in the look of moderate to severe frown lines between the eyebrows (glabellar lines). Despite overall similarities between Botox® and Dysport®, some patients may see better results with one treatment or the other.
Over time, repeated movement of the facial skin by the muscles forms lines between the eyebrows. Frown lines are "dynamic" as they happen because of the way a person's face moves. Because frown lines are created by facial movements, such as frowning or squinting, they may develop even in young people. Dysport® is used to treat these lines, by blocking the nerve signals that cause the facial muscles to contract. This ultimately results in a localized reduction of muscle activity in the treated area and temporarily stops the tightening of these muscles.
Discomfort related to Dysport® injection is usually minimal and brief. The entire procedure takes approximately 10 minutes. Most patients are in and out of the office without downtime following Dysport® treatment.
Dysport Treatment in Orange County
What is Dysport? Dysport is an injected treatment for facial lines, similar in some respects to Botox.
If you're like most people, you make a flattering face when you look in the mirror. But when you're caught off guard by someone with a camera, you might not be relaxing the muscles of your face, and that's how many people learn about their "dynamic" lines and wrinkles. Dynamic lines are the ones that form only when you're making a certain face, usually frown lines and "glabellar" lines between the eyebrows. A great new treatment for these conditions is Dysport. It is relatively quick-acting and low in discomfort, and similarities to the more well-known Botox should be noted.
It takes about ten minutes to perform a Dysport treatment. Patients of all ages can benefit from Dysport, and it's common to see younger people with concerns about dynamic lines and wrinkles as well. When you frown or squint, facial nerves tell a muscle to move, which in turn makes the skin bunch up, forming a line. Dysport focuses on the nerve, blocking it from transmitting signals to the muscles while leaving other tissues in the area relatively unaffected. Once the nerve signals are blocked by Dysport treatment, muscle activity will be greatly reduced, which prevents the dynamic line from appearing, and helps slow or stop the formation of a more permanent line in that location.
Botox and Dysport injections contain similar kinds of active proteins, but they are made by different companies. Dysport was introduced fairly recently, in 2009. Some patients report slightly better results with Dysport, while others see better results with Botox, among others, both treatments work the same way. Botox and Dysport both last about 4 months.
Amoderm medspa in Irvine is an excellent place to get Dysport or Botox in Orange County as the injections are performed by experienced licensed physician using FDA-approved medications. For these services or some of the most popular laser hair removal services in Orange County, contact Amoderm today.
Call us today at 949-266-7346 to make your appointment for free consultation with Dr Jafari to explore all the cosmetic services with Dysport injection
---
PLEASE NOTE:
Minimum units apply to all treatment appointments for Botox (20 units), Jeuveau (20 units), Xeomin (20 units) and Dysport (50 units). In case the needed number of units is less than the minimum number indicated here, the cost of treatment will be based on the indicated minimum units and not the actual number of units injected.
---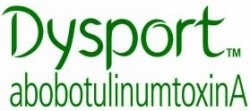 Real Results at Amoderm Cosmetic and Wellness Medical Center with Dysport Treatment