Ultherapy is among the latest and most advanced non-surgical anti-aging treatments to rejuvenate skin and tighten and lift saggy and loose skin. Ultherapy uses safe ultrasound waves to awaken and stimulate body's own healing and rejuvenating capabilities which lead to new collagen buildup and skin rejuvenation. Ultherapy is used to tighten and lift the skin and reduce lines and wrinkles at various areas including face, neck and chest (décolletage).
As we age, our skin undergoes changes which are hallmarked by volume loss and break-down of collagen and elastin. These changes lead to visible signs of aging, such as lines, wrinkles and folds and skin sagginess (as if the skin is being pulled "down-ward" with areas in the lower face looking heavier). This can be summarized by the transition from triangle of youth to pyramid of aging.
How Does Ultherapy Work?
Various nonsurgical treatments are available to address these changes of aging, ranging from various injectables to energy-based devices. One of the most advanced and effective treatments is Ultherapy. Ultherapy uses safe ultrasound waves to deliver focused energy at precisely selected depths of the skin. The ultrasound waves also visualize the treated area (just as a regular ultrasound scan is used for body imaging), allowing your clinicians to see the treatment area and choose the right target.
The energy from the ultrasound is converted to heat, which raises the temperature in the target area in a controlled manner. The raised temperature (which exceeds typical ranges achieved by other modalities such as radiofrequency) stimulates body's regenerative and rejuvenating response, activating and mobilizing cells such as fibroblasts to make new collagen (neocollagenesis) and other components of a healthy and renewed skin.
Which Areas Can be Treated and Who is a Candidate?
Ultherapy is FDA approved (cleared) for lifting and tightening skin and reducing lines and wrinkles on lower face, under the chin, neck and chest (décolletage). It is also FDA approved for tightening and lifting skin above eyebrows for nonsurgical brow lift.
Ultherapy is an ideal treatment for those with mild to moderate skin laxity and saggy skin. Here are a few examples of conditions that we can treat with Ultherapy:
Droopy and lowered eyebrows (non-surgical brow lift)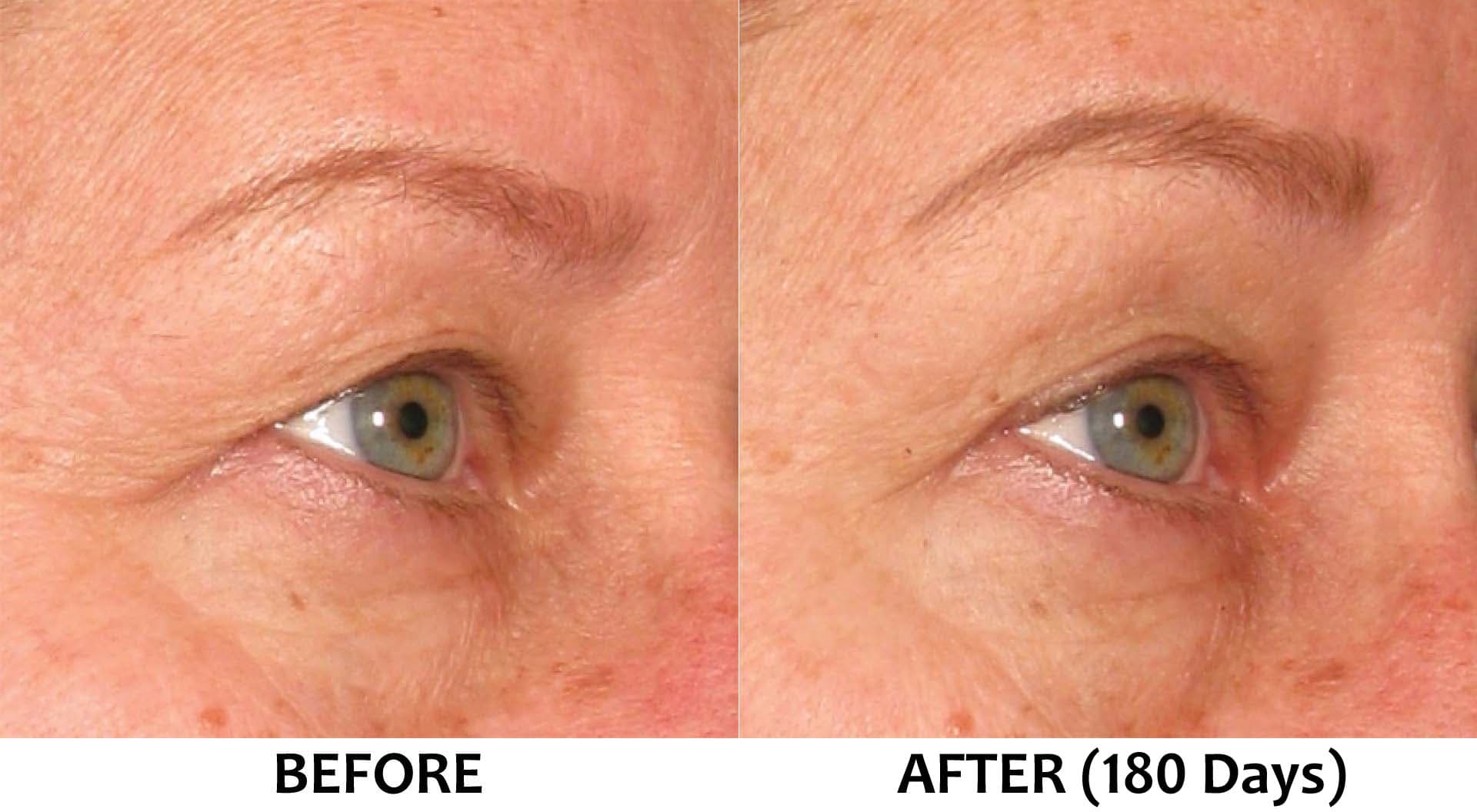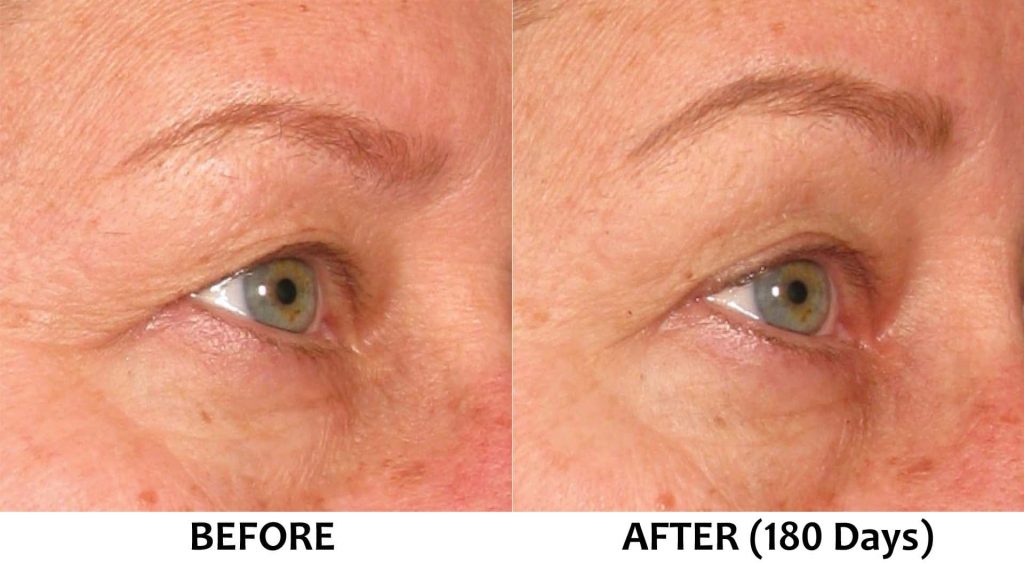 Saggy skin in lower face and jawline (Non-surgical jaw lift)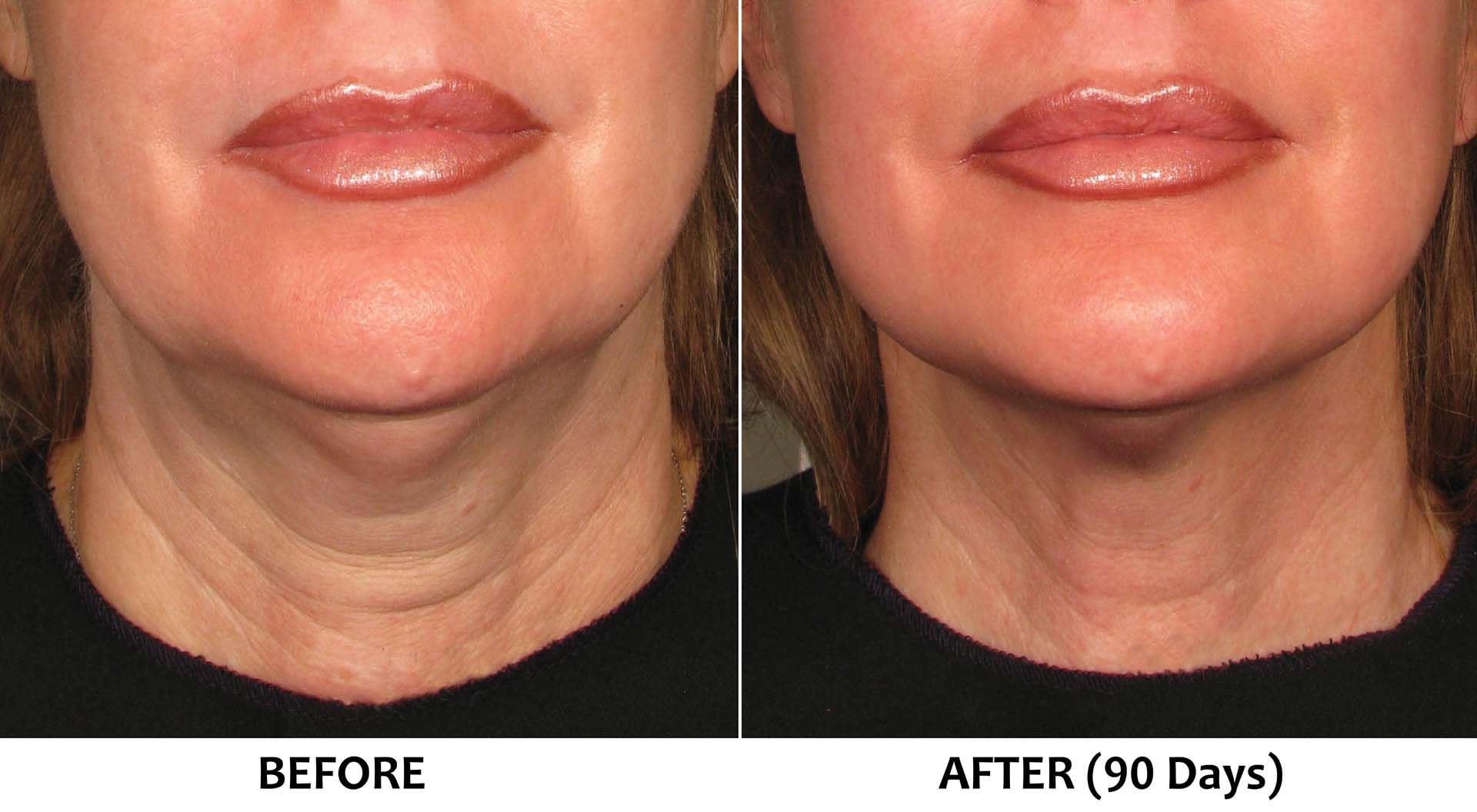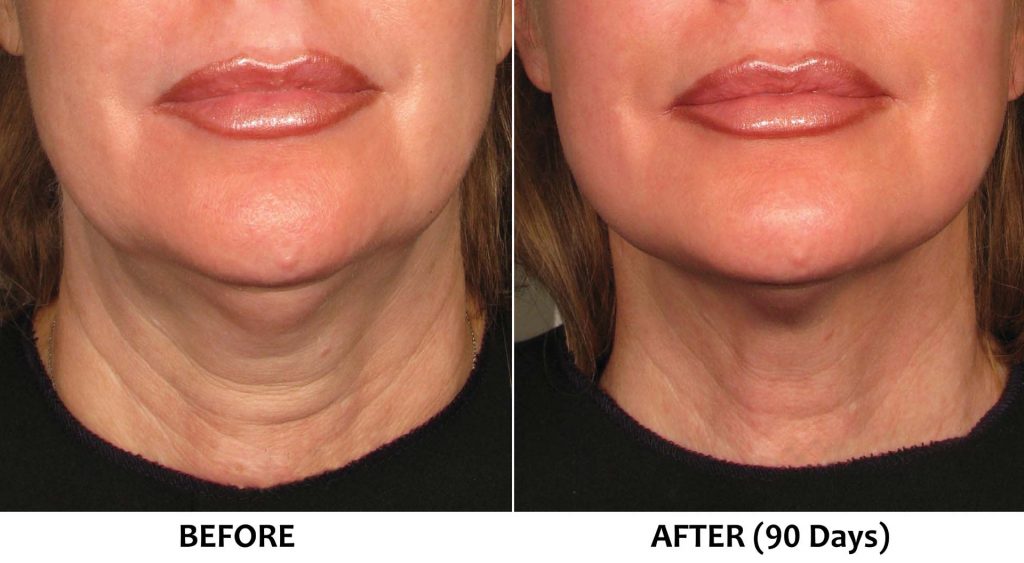 Loose and sagging skin on neck (non-surgical neck lift)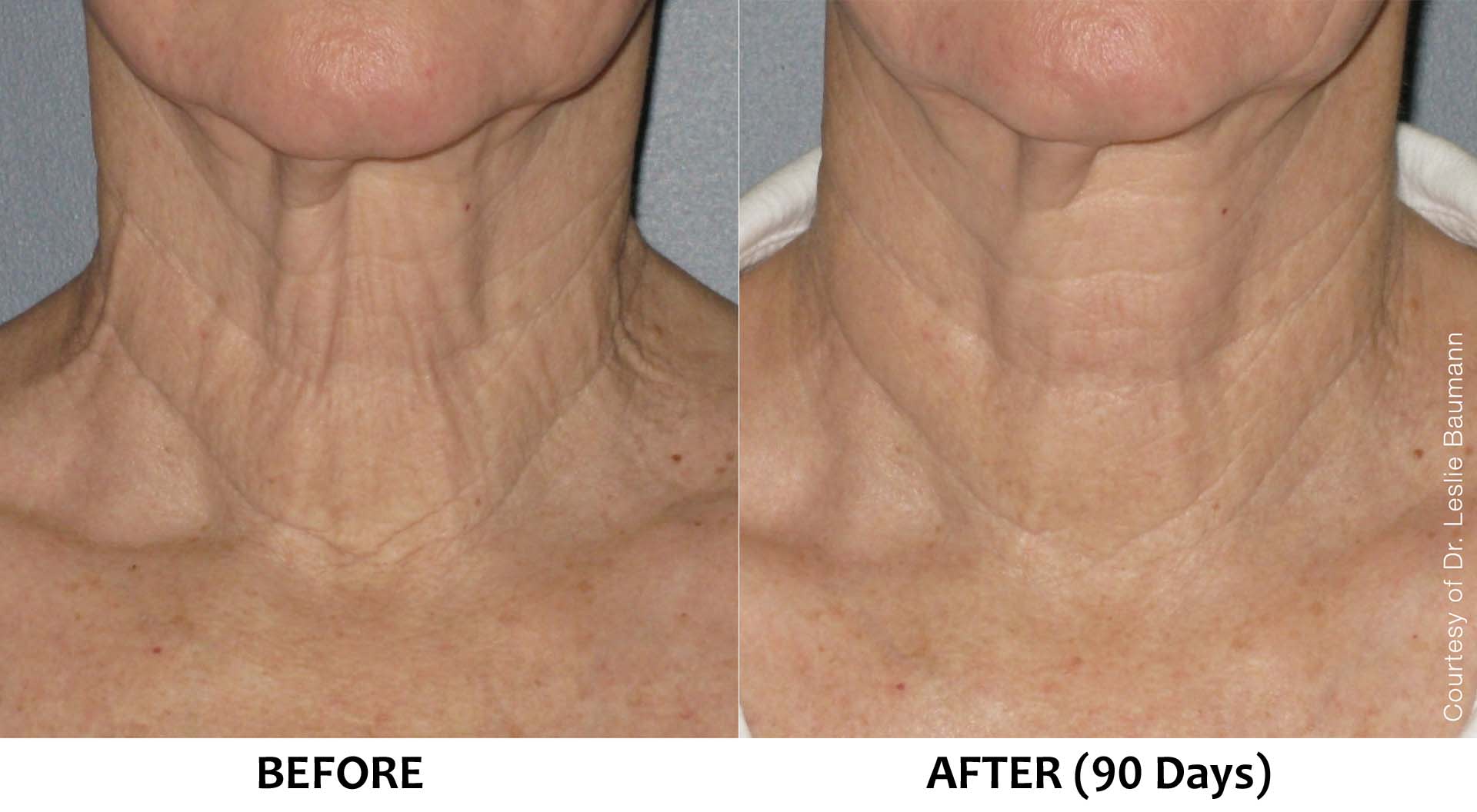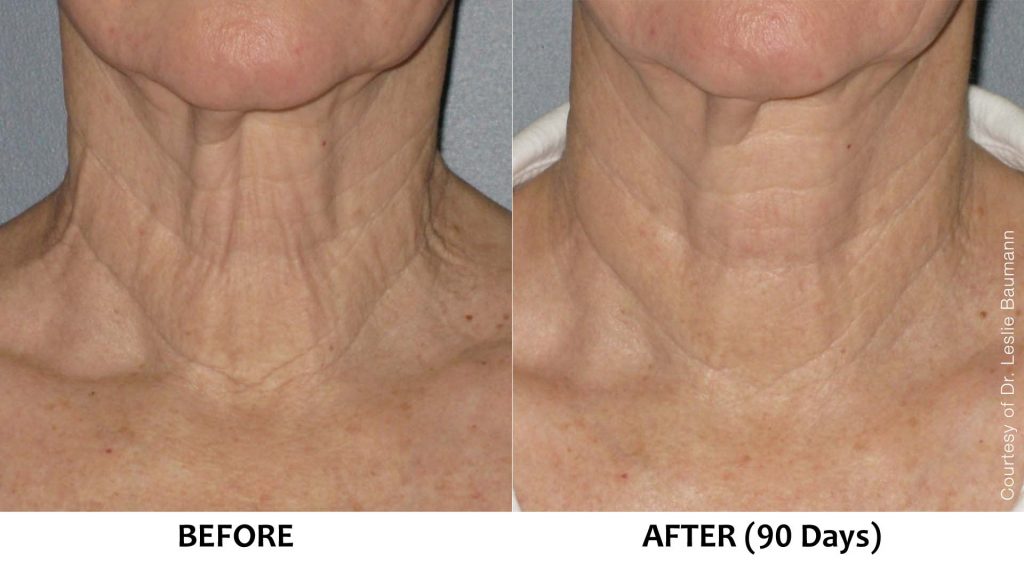 Loose and sagging skin under the chin (sub-mental area)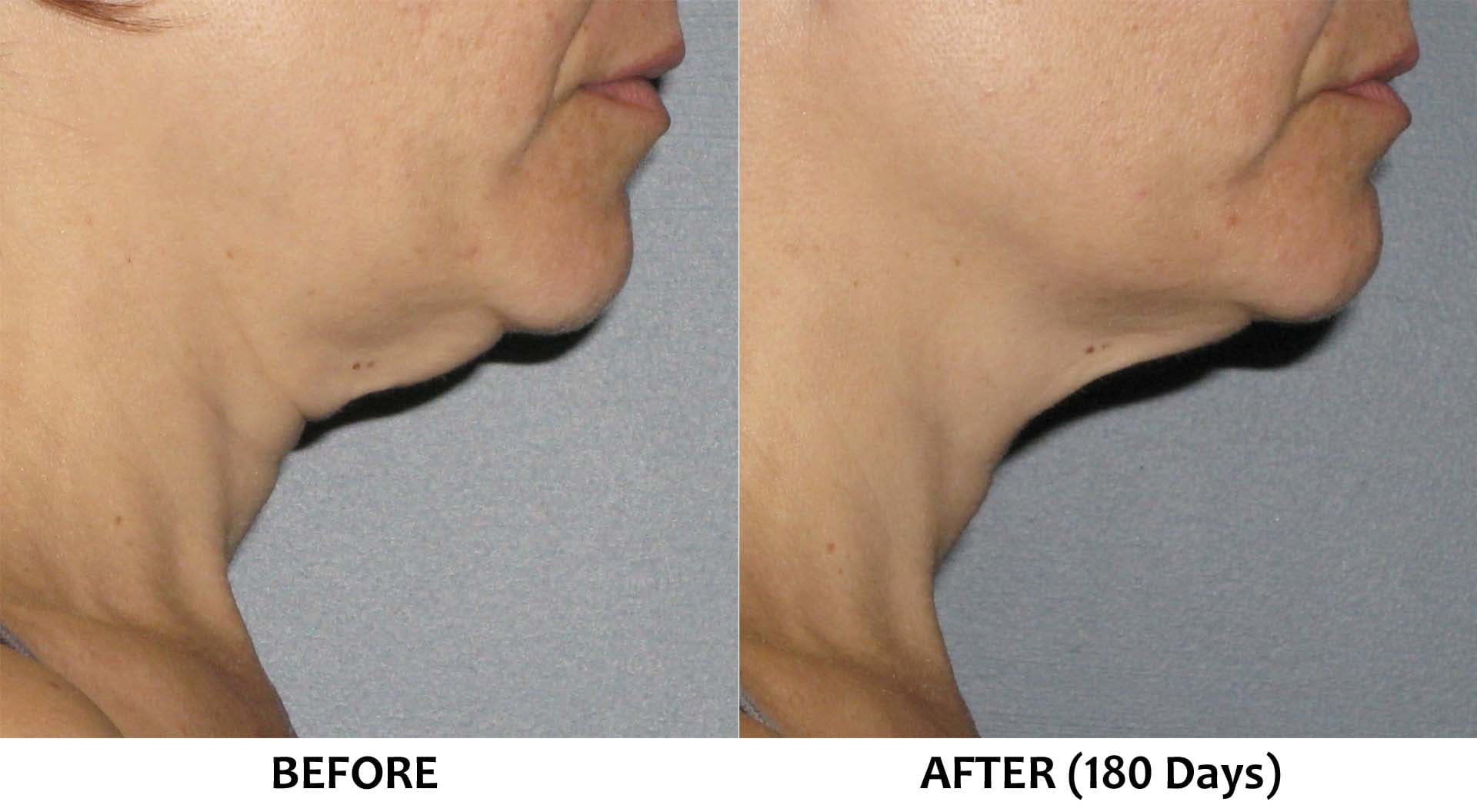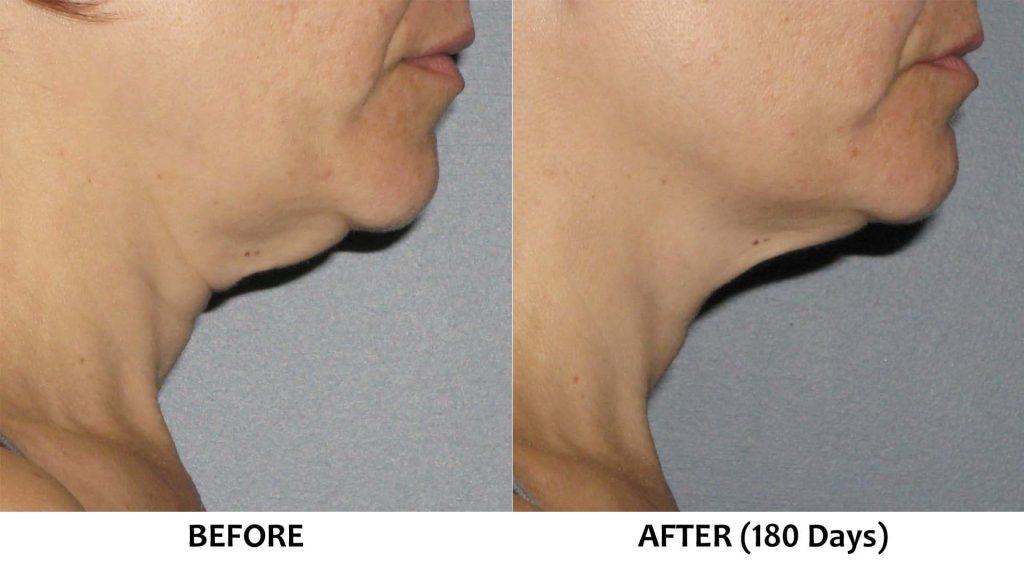 Wrinkles and lines on chest and décolletage area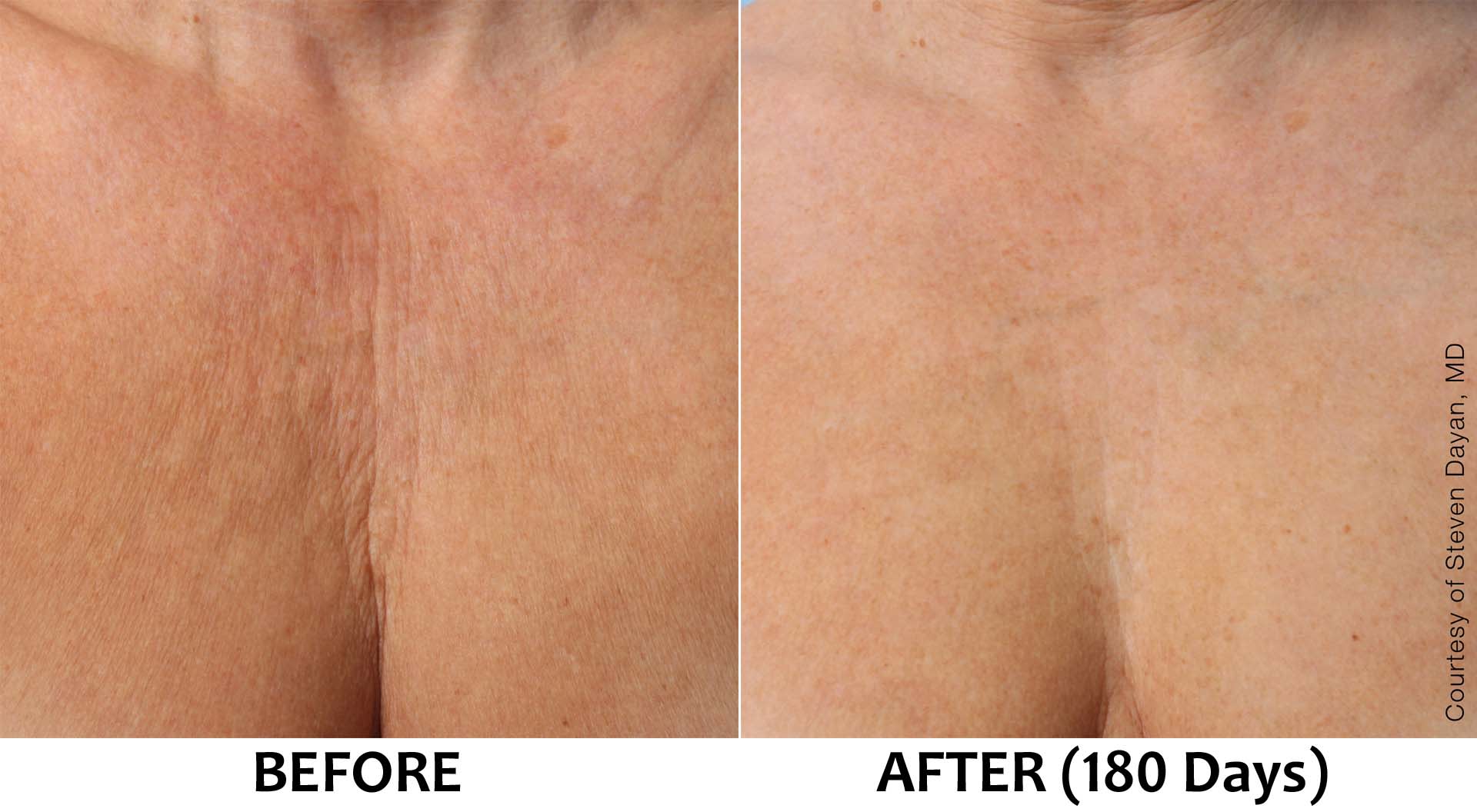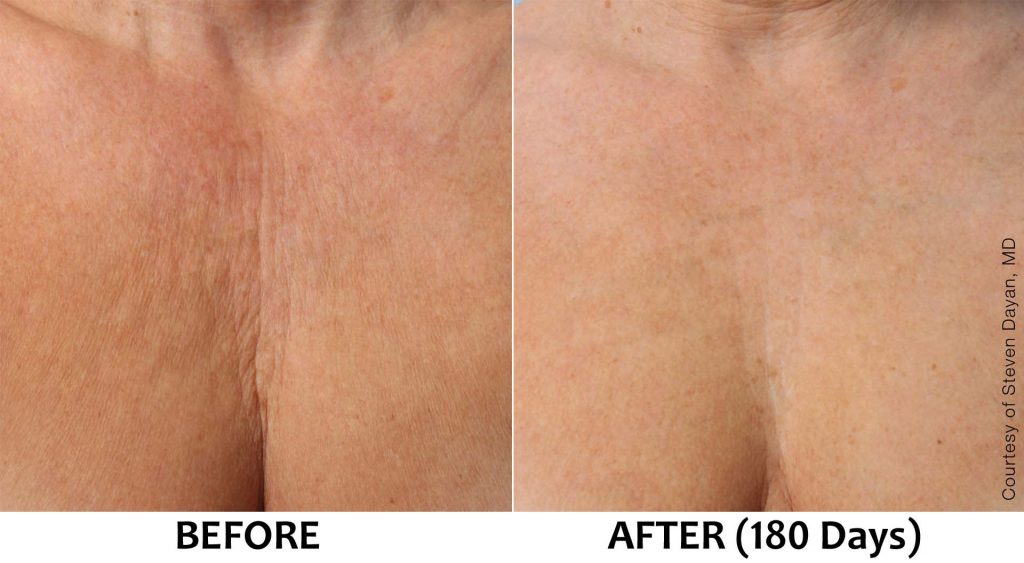 What Is the Difference between Ultherapy, Lasers and Radiofrequency?
This phenomenon of awakening and stimulating body's own healing and regenerative capabilities is exploited in many energy-based treatments using lasers and radiofrequency. Each of these treatments offers certain advantages and to determine the best option for each patient, an individual consultation is required. However, when it comes to skin tightening, Ultherapy's unique and innovative technology offers several advantages.
Lasers usually act on more superficial layers of skin and are generally incapable of delivering adequate energy to the deeper layer of skin which are very important for stimulating new collagen and effective reversal of signs of aging. Additionally, most lasers are affected by skin color and skin typing is needed to determine the safe level of laser energy to avoid causing burns and pigmentation issues. On the other hand, radiofrequency treatments are generally not affected by skin color and type, but they lack the precision and penetration of ultrasound waves used in Ultherapy. Compared with most other radiofrequency treatments, Ultherapy is capable of safely increasing the temperature of the target area to the higher levels. In this setting, the amount of new collagen that is made is directly associated with the increased temperature that is achieved: higher temperature at the target depth is generally associated with more new collagen buildup.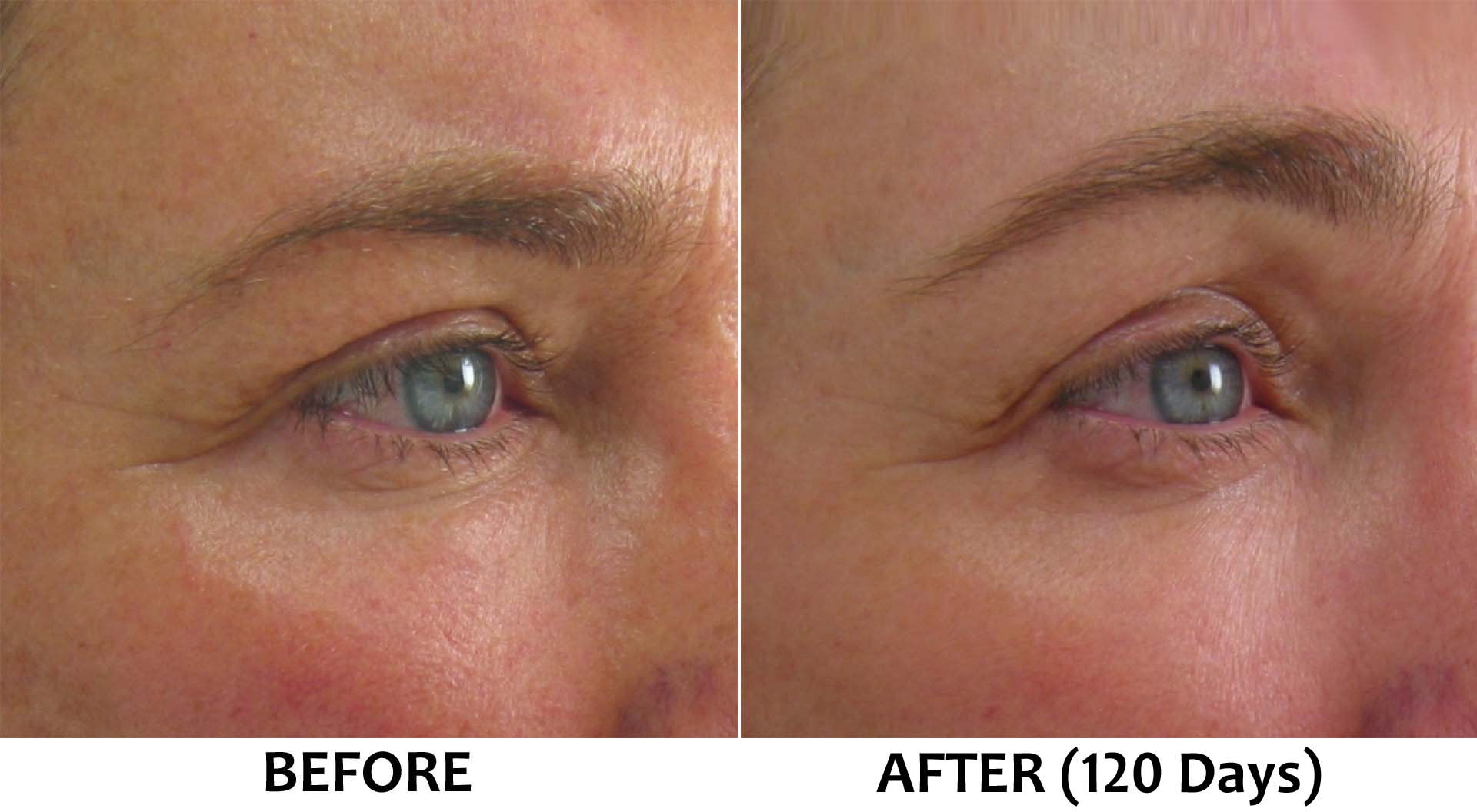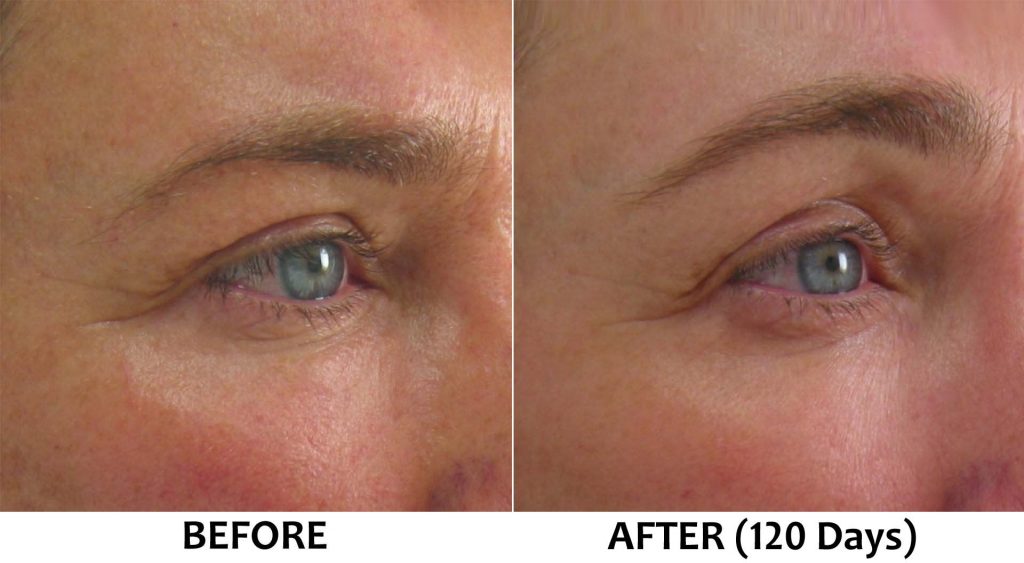 Ultherapy vs. Surgical Facelift
Ultherapy is a good nonsurgical alternative to a surgical facelift for those with mild to moderate skin laxity and sagginess who are not ready for surgery. As a nonsurgical treatment, it might not be able to achieve the same results as surgical facelift (e.g. in patients with excessive sagging skin), but for many other patients, it can be an effective nonsurgical option that can effectively tighten and lift the skin and can delay the need for surgical facelift for a long time (individual results vary). It can also be an option to consider for extending and further improving the results of a prior surgical facelift. Overall, Ultherapy is an excellent option to consider as part of nonsurgical (liquid) facelift procedures.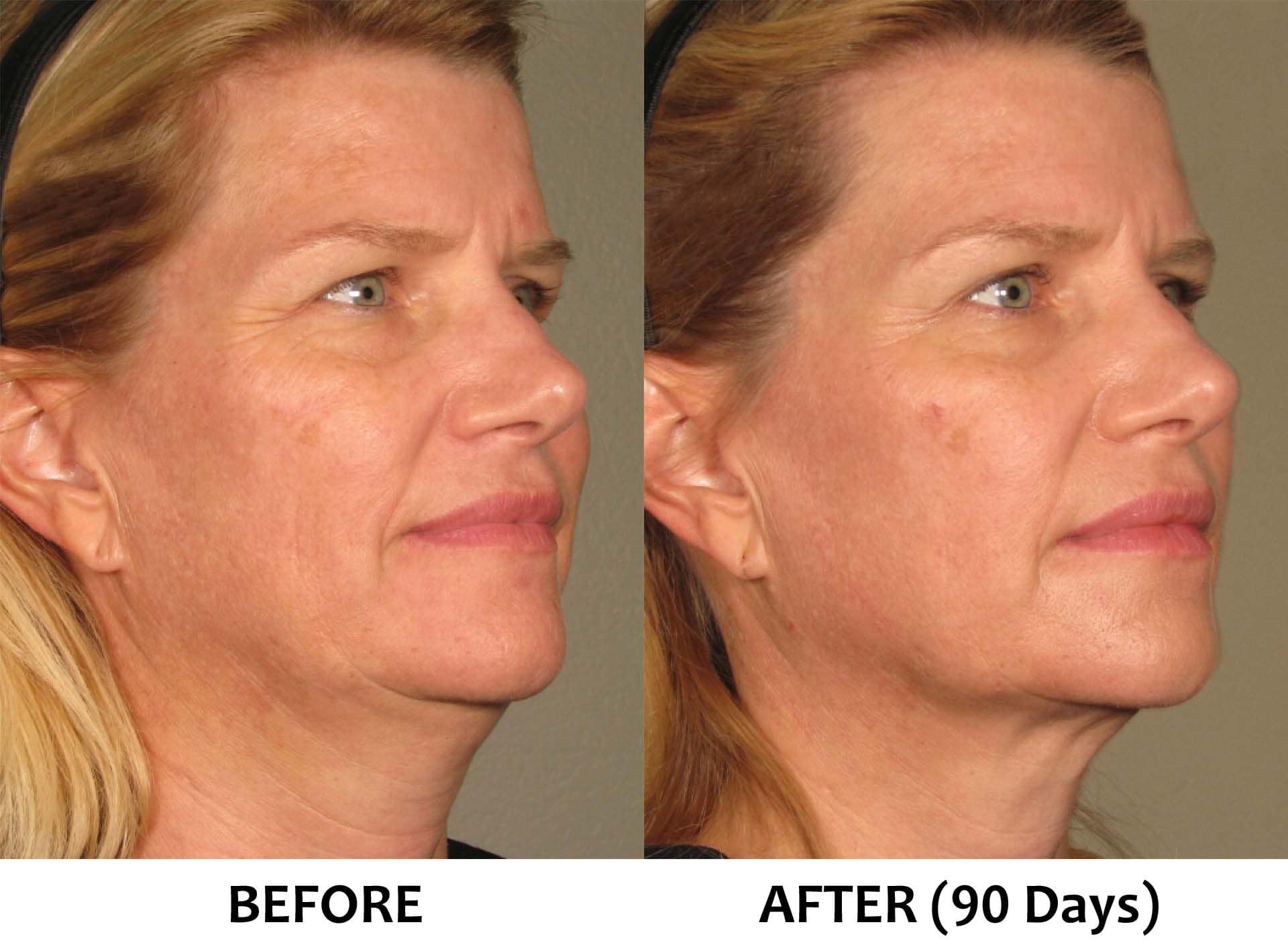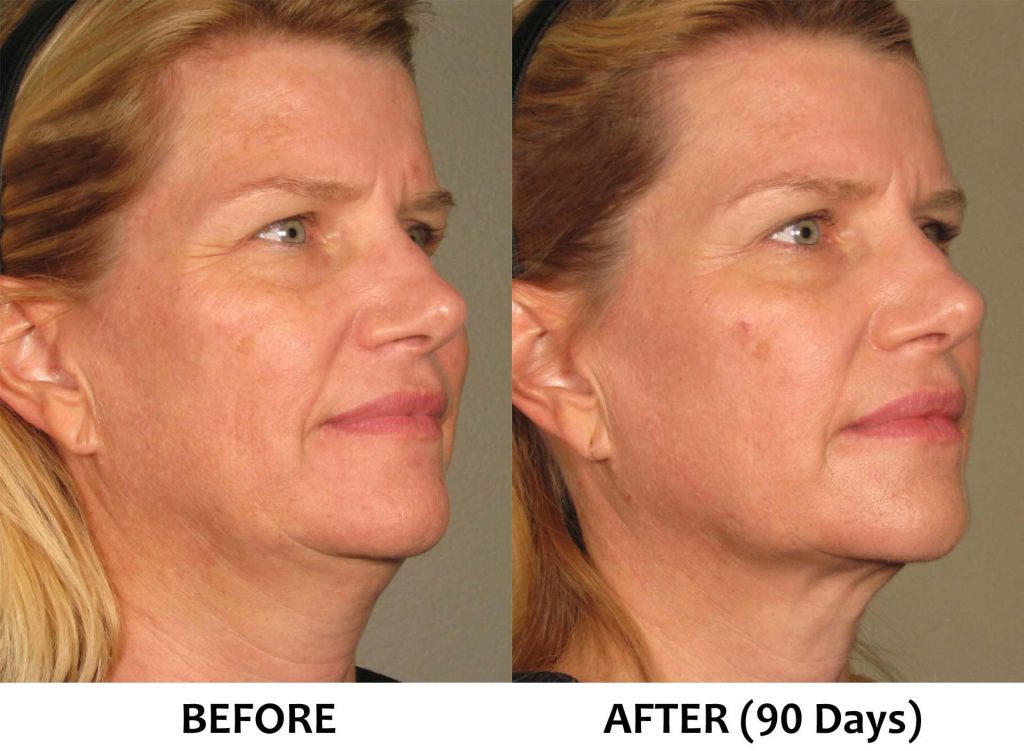 More Information on Ultherapy Procedure:
The length of the treatment: Depending on the areas to be treated, the procedure typically takes between 30 to 90 minutes.
Pain and discomfort: Patients typically feel little spikes as the ultrasound energy reaches the targets at carefully selected depths of the skin. The increased temperature and energy in the treated areas can be perceived as mild to moderate discomfort which is brief and short-lasting. Each patient is different and we will consider various options for effective comfort management during the treatment
Numbing: The treatment area is typically numbed with application of topical numbing creams ahead of the procedure. Oral pain medications might also be considered. Ice packs are not typically needed or recommended.
Down time: There is no downtime. Some patients might have very mild and temporary redness. You can resume normal activity right after the treatment and there are no particular post-treatment care considerations other than following common-sense measures and sticking to routines.
When Will the Results Appear?
Following the Ultherapy treatment, it will take some time for the body to generate new collagen. The results will gradually emerge as the collagen buildup continues and it reaches the optimal level in about 2-3 months. It is important to remember that as Ultherapy stimulates the body to make new collagen, the extent of the final results and their clinical visibility is dependent on the body's ability to make new collagen (as well as the baseline level of skin laxity and sagginess) and hence, individual patient results may vary.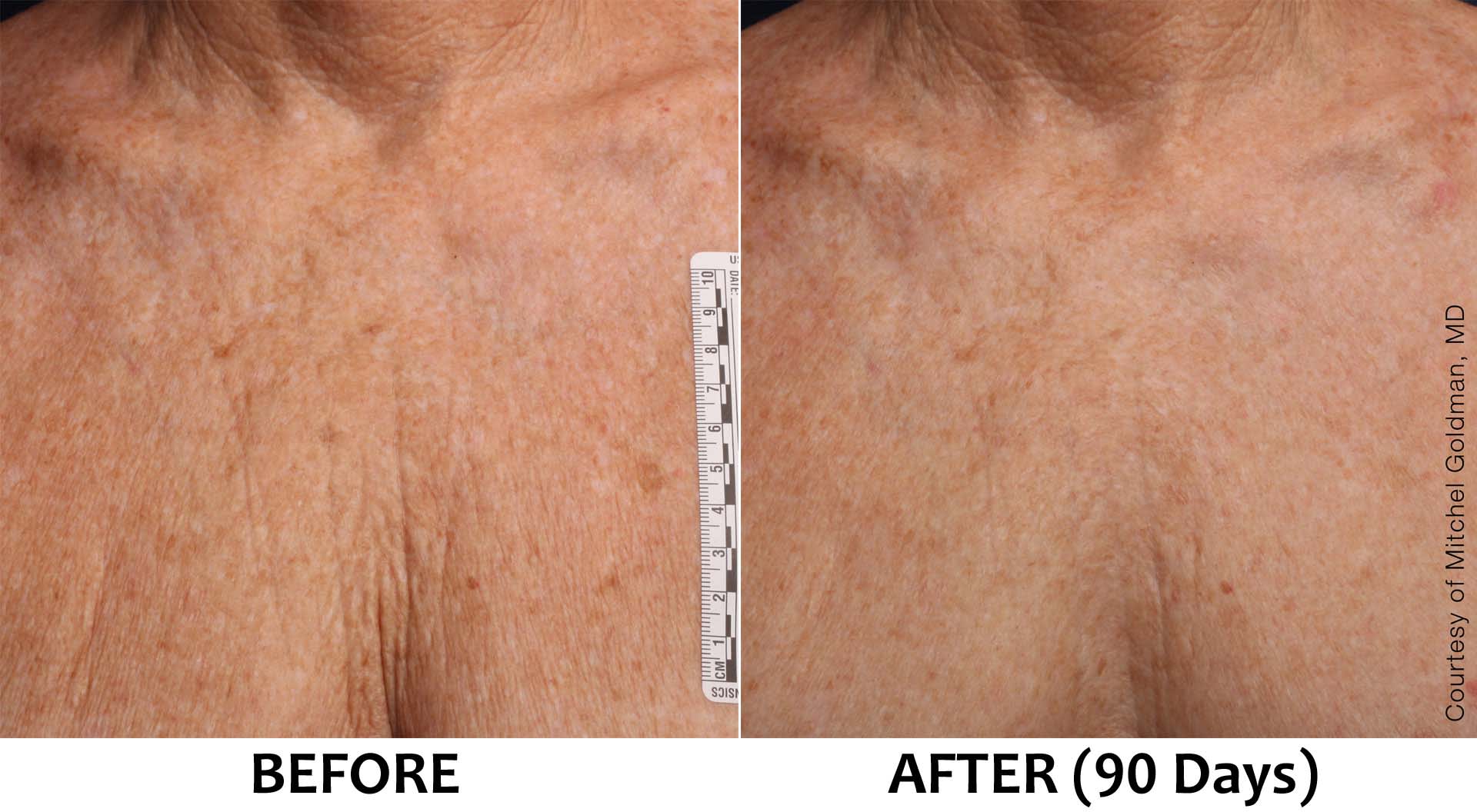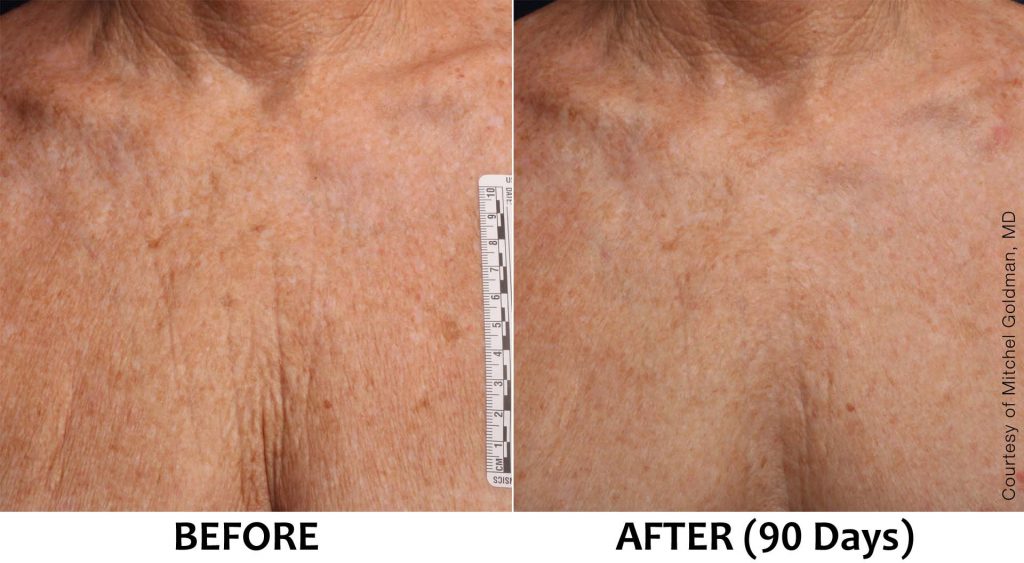 How Long Will the Results Last and How Many Treatments Are Needed?
Ultherapy stimulates the body to make new natural collagen but at the same time, the natural aging process continues as our body continues to break down and remodel collagen. Hence, the time the results will stay clinically visible and last depends on the balance between the speed the new collagen is made and the speed the body breaks down the collagen.
For many patients, the results typically last for several months and treatment can be done once a year. However, the extent of the results depends on many factors including the degree of skin laxity, the natural aging process and the ability of the body to make new collagen and hence, some patients might need earlier touch-ups and treatments. No matter how much we want to see great and lasting results for everyone, the reality is that everyone is different and satisfaction can be a subjective matter. We start with one treatment and depending on how the body responds to it in the months that follow, we can discuss the need for further touch-ups and treatment on a case-by-case basis.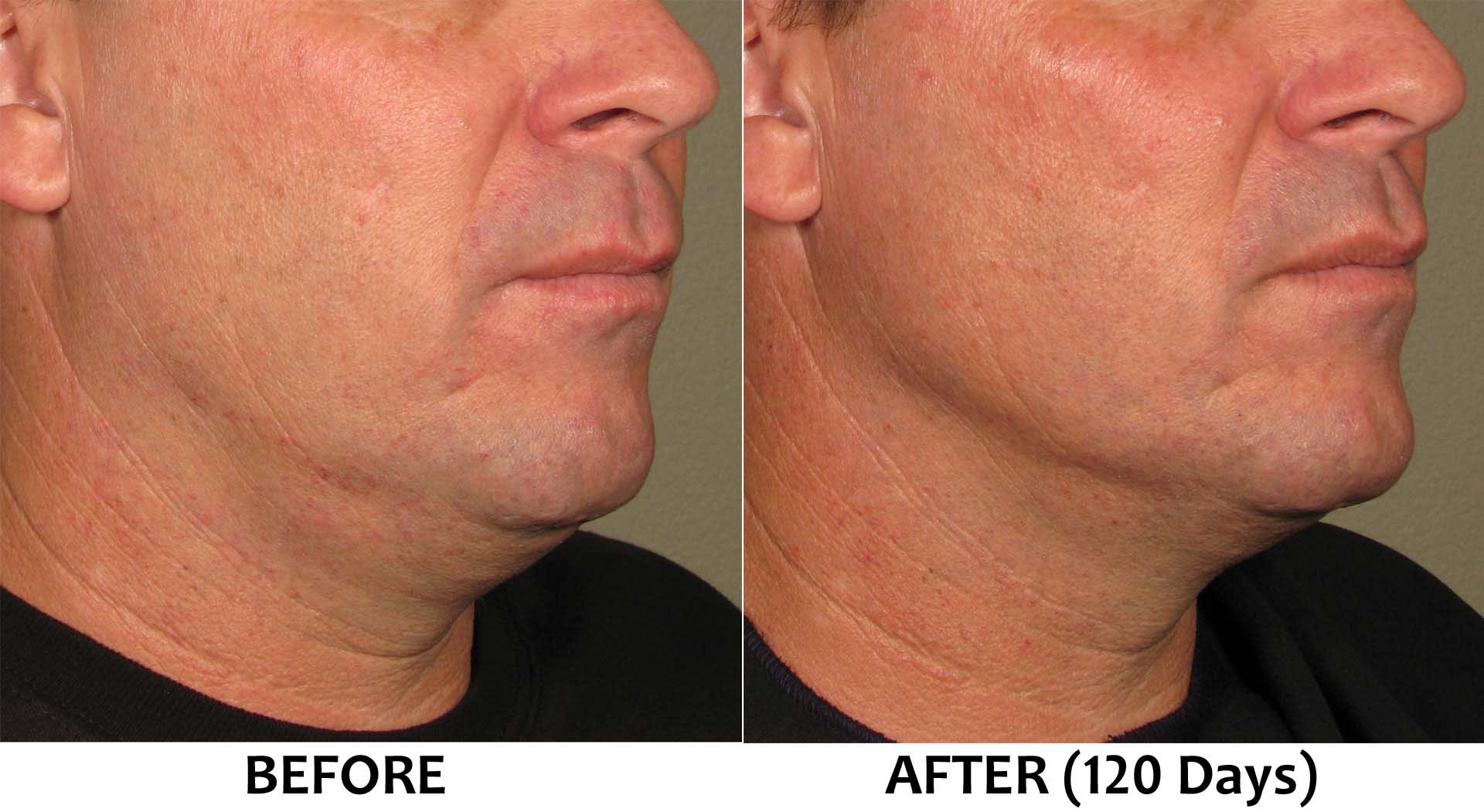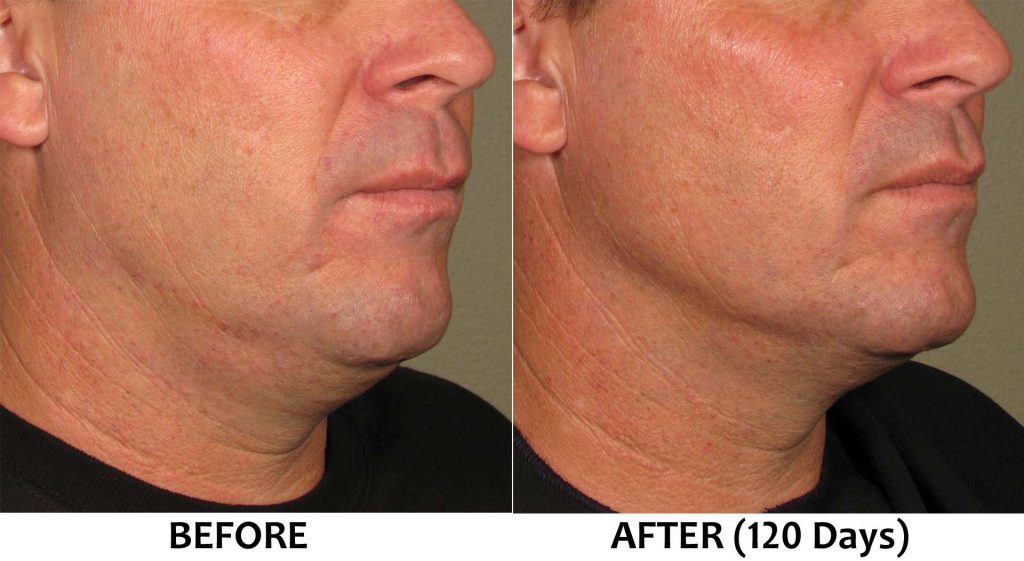 What is Ultherapy Glow and How It Differs from Standard Ultherapy?
While standard Ultherapy focused on deeper layers of skin and treat them with two passes (one deeper and one less deeper pass) to target collagen stimulation in deeper layers to generate skin tightening and lift, Ultherapy Glow focuses on more superficial layers of skin with one pass of treatment. The energy delivered to the superficial layers of skin will stimulate new collagen and elastin in those layers, helping with reducing fine lines and wrinkles, improving sagging skin, reducing crepiness, improving skin texture, reducing pore size and creating a more glowing and radiant appearance (hence the name, Ultherapy Glow).
Ultherapy Glow can be done on entire face, neck and decolletage areas. The skin glow typically appears sooner while it might take 2-4 months for the impact on lines and skin tightening to reach optimal level and the results last up to a year (individual patient results may vary). The down-time is minimal and most patients experience minimal discomfort with topical numbing. Since the treatment targets more superficial layers of skin with one pass, it can be done more frequently than the regular Ultherapy.
Is Ultherapy Safe and What Are the Side Effects?
Ultherapy is generally a very safe treatment. Ultrasound waves that are used in Ultherapy have been used in medicine for decades without any significant safety concerns. Of course like any other medical procedure, there are some potential risks and it is very important o work with clinicians who are highly experienced and trained.
Following the treatment, some patients might experience temporary skin redness which typically goes away within hours. Slight swelling and tenderness or tingling to touch might also occur in some patients which also tend to be temporary and short-lasting. Bruising or numbness of small areas of skin is possible, not uncommon. Other potential and side effects are very rare and include scarring and transient muscle weakness, pain or numbness due to injury to the facial nerve (although no permanent facial nerve injury has been reported as of this writing).
Ultherapy is an FDA-approved safe and effective treatment for nonsurgical skin tightening and lift and to treat sagging skin and reduce lines and wrinkles. Contact Amoderm in Irvine, Orange County today to schedule your complimentary consultation and learn more about this revolutionary anti-aging treatment!



Real Results at Amoderm Cosmetic and Wellness Medical Center using Ultherapy for Cosmetic Treatments