HOW TO CORRECT NOSE ISSUES WITHOUT SURGERY
When it comes to correction of nose shape and issues related to that, surgery has been long recognized as the one and only solution. Rhinoplasty or "nose job" remains a popular surgery among those who are looking for a more balanced and pleasant look, but like any other surgeries, pain, risks, lengthy downtime and costs prevent many from going ahead with their plans.
Liquid Rhinoplasty
Luckily we now have a real alternative. Thanks to advances in non-surgical cosmetic treatments, your doctor can use a variety of fillers – typically used to restore volume in face and body – to reshape nose and achieve a better look. This procedure is called Nonsurgical Nose Job or Liquid Rhinoplasty and it is among the most advanced cosmetic treatments that requires a high level of skill and expertise alongside with great understanding of ideal proportions of facial features. The key to achieve natural looking results is subtle corrections at carefully selected spots to address the existing flaws without introducing new ones. At Amoderm, Dr. Jafari is highly experienced in these procedures and she can provide you with the treatment you need.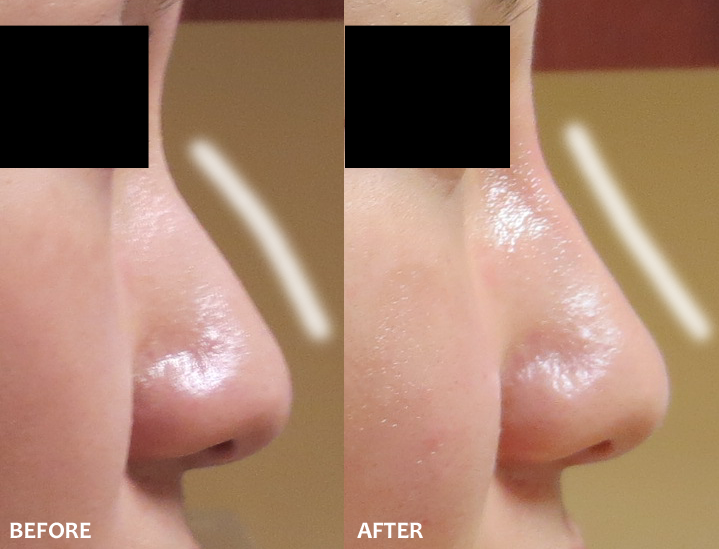 Who Is a Candidate?
In cosmetic medicine, we often talk about the importance of having realistic expectations and non-surgical nose job is no exception. There are cases which simply cannot be addressed with liquid rhinoplasty and they require full surgical approach. For example, patients who are not happy with the bulkiness of nose or those who suffer from severe septum deviations might be better served by a surgeon. In liquid nose job, your doctor is not actually reducing the bulk of the nose and the size is not reduced, but she uses careful injection of fillers to add volume in strategically selected areas to correct flaws, asymmetries and deformities such as bumps, humps, droopy tip and saddle nose. Read on to see a few examples!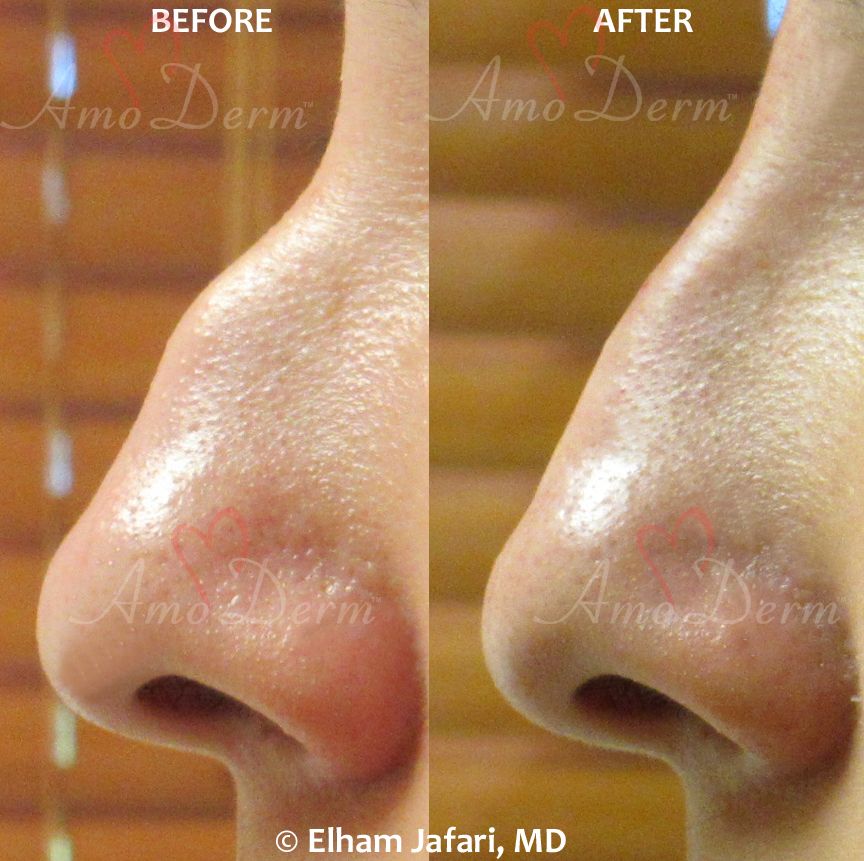 Examples of Corrections with Nonsurgical Nose Job
A common example is nose bridge reconstruction. It is quite common to have a nose bridge that is too narrow or not well defined, causing the rest of the nose to stand out and become too prominent in an unbalanced way. Your doctor can reshape the nose bridge by careful injection of filler to achieve a more balanced overall shape. Other good examples include bumps and humps on nose. In many patients, bumps and humps on nose can be effectively treated by injecting filler above and below them, to smooth out the bump and create a more linear an straight nose profile.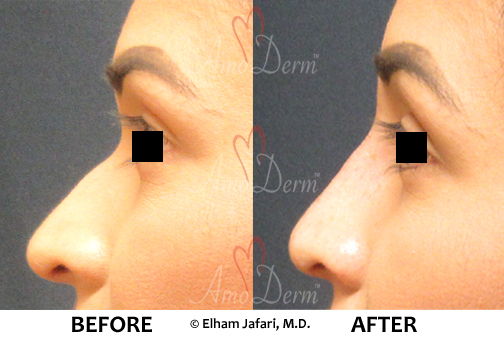 Tip of the nose is another potential area that can be treated with liquid nose job. For those with droopy tip of nose, your doctor can generate some lift to pull the tip upward and correct the droopy nose tip by injecting fillers in other areas of nose as far as the nose bridge. You can simulate the results by placing your fingers on the bridge of your nose and slightly carefully pulling it upward and see how the tip of your nose will also move upward. A similar effect can often be achieved by filler injection. Fillers can also be injected to the nostril rims, columella or nose tip to reshape them or correct defects such as inadequate tip projection and asymmetries. In short, the possibilities at hands of an experienced and skilled cosmetic physician are endless!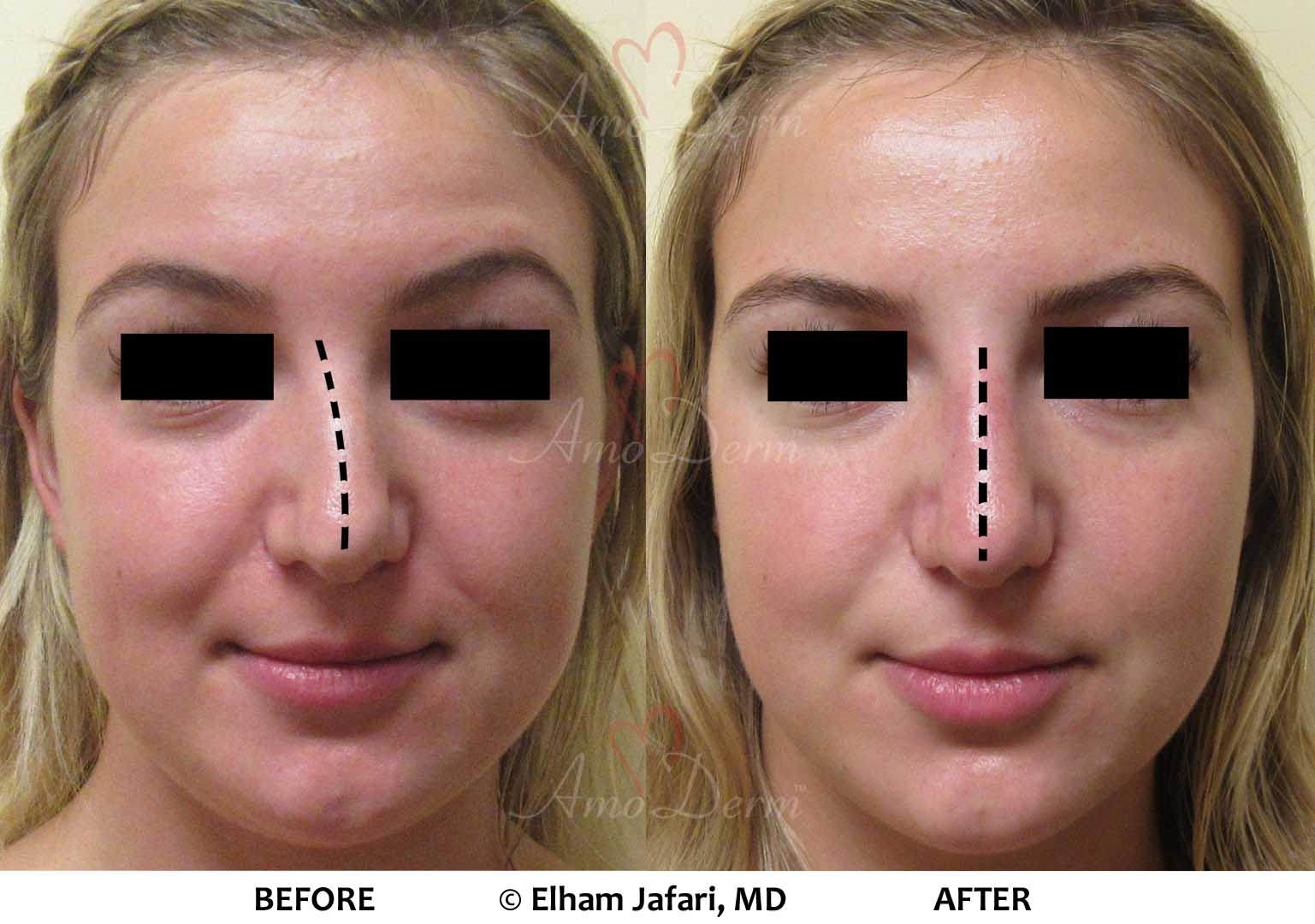 How Much Does It Costs?
The cost of nonsurgical nose job depends on the type and amount of fillers used. Your doctor commonly used hyaluronic acid fillers such as Juvederm or Restylane (or Voluma for longer-lasting results) and patients might need 1-2 syringes of filler. The type and amount of filler needed are best determined during a consultation.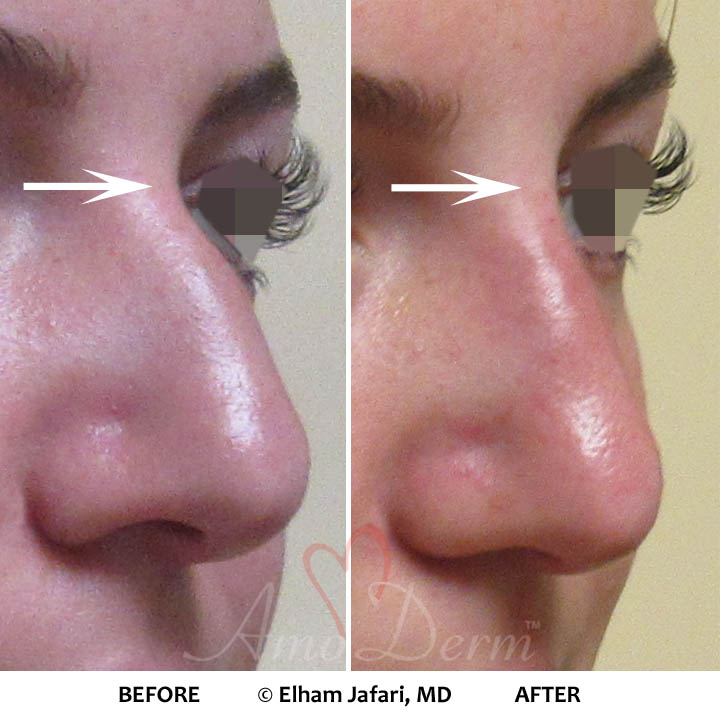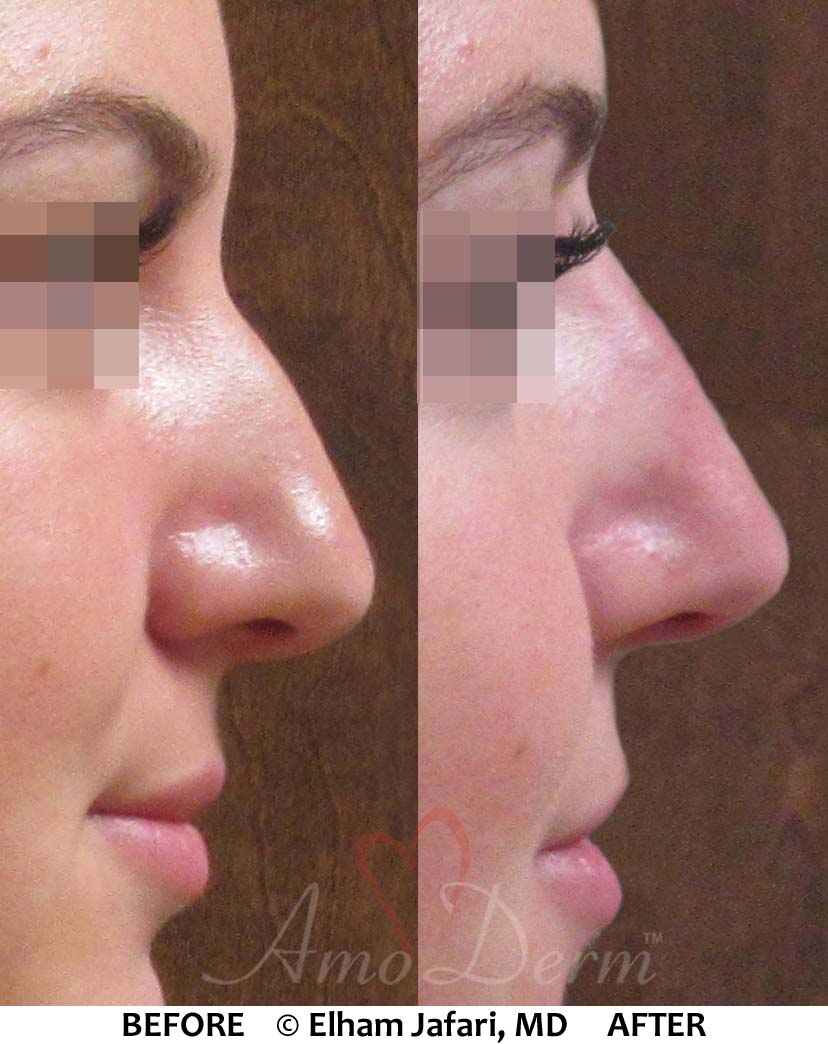 How Long Will It Last?
It depends on the type of the filler used. Liquid nose job offers a temporary correction and the results will typically last for as long as the injected fillers last. Fillers such as Juvederm or Restylane typically last for 6-12 months while Volume lasts for up to 2 years. Please note that individual results may vary.
Despite the subtle nature of the procedure, the result is often quite impressive, especially when you consider that it can be done within a single treatment session lasting less than an hour and with no downtime. To learn more about this procedure and see if you are a candidate, schedule your consultation today!